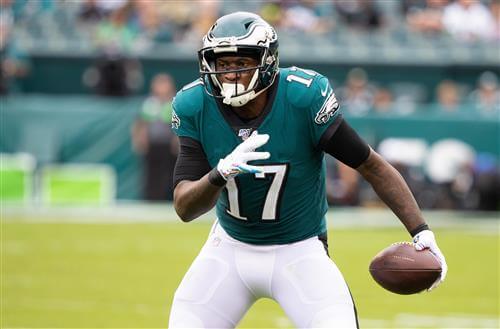 The NFL rumor mill is about to heat up with the Week 8 trade deadline approaching.
And why not? The league has been trade-happy in recent years, and as the season nears the halfway point, contenders and pretenders will mostly have been sorted into their respective columns. Injuries have occurred, head coaches have been fired, and long-term courses need plotting.
The trade deadline should once again serve as a vehicle for rebuilders to offload talent and would-be contenders to stock up for a short-term run. That said, a few notable players shouldn't get traded, whether because it wouldn't make sense for the team's situation or because the return would be minimal.
Using a trade block big board featuring the biggest players involved in trade speculation, let's look at a handful of massive names who shouldn't get moved in the coming weeks.
Jacoby Brissett, QB, Indianapolis Colts
The Indianapolis Colts no longer have the best backup quarterback in football thanks to Andy Dalton's presence with the Dallas Cowboys (though he's currently starting in place of an injured Dak Prescott), but they aren't far off thanks to the presence of Jacoby Brissett.
Call Brissett's presence a good dilemma for the Colts as they'll likely receive the first call from any team with issues at the position before the deadline. He was the starter last year, and Philip Rivers continues to play well enough to hold down the job in 2020, as evidenced by his 371 yards, three touchdowns and one interception in a Week 6 win over the Cincinnati Bengals.
While Brissett wasn't overly impressive as a starter (60.9 completion percentage, 18 touchdowns, six interceptions over 15 games in 2019), the Colts do need to keep an eye on the future. Rivers hasn't missed a game since 2005, but he's also 38 years old and on a one-year pact.
While there might be interest in gaining a long-term asset by offloading Brissett, the pursuit of contention suggests keeping him as insurance is smart, and the eye toward the future points at a question mark if the Colts somehow hit next summer with neither quarterback on the roster.
Will Fuller V, WR, Houston Texans
It's easy to tab the Houston Texans as sellers at the deadline with head coach and general manager Bill O'Brien fired. And that might end up being the case after O'Brien absorbed a big cap hit with running back David Johnson, traded away DeAndre Hopkins and added wideouts Brandin Cooks and Randall Cobb.