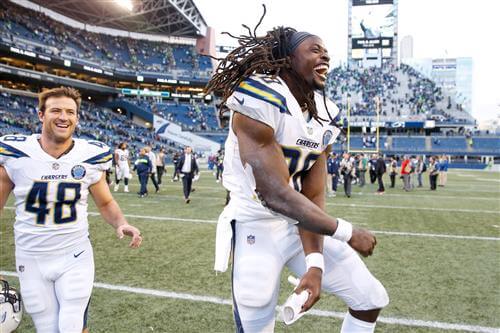 The first full week of the 2019 NFL preseason is in the books. That means fans are inching closer to regular-season games, while teams are still trying to sort out their final 53-man rosters.
Teams have to be down to 53 players by 4 p.m. ET on August 31, which will be a disappointing day for many NFL hopefuls and a difficult day for many team decision-makers. Figuring out the last few roster spots is never easy, as every team must release quality players.
Teams don't like to let good players go for free, which is one reason why the NFL trade market tends to pick up during the preseason. The other is that some teams start to realize the glaring holes that need to be filled.
We've already seen one notable preseason trade, as the Cleveland Browns dealt running back Duke Johnson Jr. to the Houston Texans for a conditional fourth-round pick that could become a third-rounder. Cleveland had a surplus of backs, Houston had a need at the position, and the result was a win-win exchange of assets.
More recently, the Baltimore Ravens sent backup kicker Kaare Vedvik to the Minnesota Vikings for a 2020 fifth-round pick.
Johnson and Vedvik won't be the only players traded before the end of the preseason. Here are some others who are likely to be on the move in the coming weeks.
Laquon Treadwell, WR, Minnesota Vikings
Laquon Treadwell, who the Minnesota Vikings selected with the 23rd overall pick in the 2016 draft, came into the NFL with plenty of promise and potential. However, he's failed to live up to that, catching only 56 passes for 517 yards and one touchdown across his first three seasons.
Treadwell is now listed as a third-team receiver behind Adam Thielen, Stefon Diggs, Chad Beebe and Jordan Taylor.
"That's been the rotation since we came back (for training camp)," Treadwell said, per Chris Tomasson of the Pioneer Press. "I'm not really worried about the depth chart too much. As long as I continue to do my job and help us win, everything will work out."
At this point, Treadwell may need a fresh start.
While the Vikings have room to carry him on their roster, they likely aren't interested in paying more than $3 million to a backup receiver who rarely sees the field. Releasing him is a possibility, but it would only save Minnesota roughly $650,000 since most of his salary is guaranteed.
The better option would be to trade Treadwell to a team willing to take a chance on his potential.
While Minnesota might not get much in return for Treadwell, some team out there should be willing to give him a chance. That's how the market often works for former first-round picks.
Fellow 2016 receiver disappointment Corey Coleman and 2015 draft bust Breshad Perriman both have gotten opportunities to salvage their careers with different teams. Treadwell figures to as well.
Josh Jones, DB, Green Bay Packers
Like Treadwell, Green Bay Packers safety Josh Jones has not lived up to expectations.
The 2017 second-round pick has failed to maintain a starting job across his first two seasons and appears poised for an even more reduced role this year. That's largely why he requested a trade early in the offseason, although the Packers didn't accommodate him.
"I think it's more about what our team desire is, and right now we're kind of working through that," general manager Brian Gutekunst said in June, per ESPN's Rob Demovsky. "But he's a very talented player. He's shown that on the field at the times. We'll go along and see where it goes."
So far, it's been going downhill for Jones.
He missed the preseason opener with an unspecified injury, while fellow safety Raven Greene started and racked up three tackles and a forced fumble. Green and rookie first-round pick Darnell Savage Jr. are competing for the starting job opposite Adrian Amos, so Jones is likely eying a backup role at best.
The could prompt the Packers to get something in return for Jones while they can, much like they did when they send Damarious Randall to Cleveland last offseason.
Projected starting linebacker Oren Burks suffered a torn pectoral muscle last week, which could speed up the process of moving Jones. If the Packers can land an inside linebacker for Jones, they likely wouldn't hesitate.
The MMQB's Albert Breer mentioned Browns starting inside linebacker Joe Schobert as a possible trade option on ESPN's The Russillo Show back in April.
Joe Schobert, LB, Cleveland Browns
While the Browns might not deal Schobert to the Packers, they could still move the 2017 Pro Bowler before the start of the season.