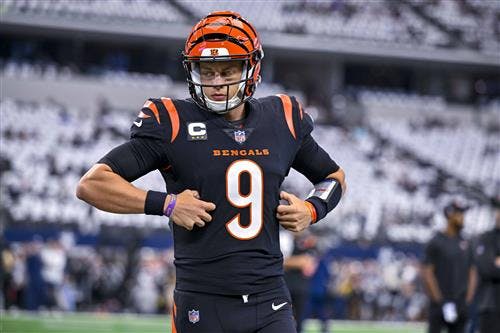 The NFL is a "what have you done for me lately league". It also stands for "Not For Long" if a player isn't performing.
While players earn jobs in training camp and the preseason, coaches constantly evaluate their roster. Two weeks into the season, staff around the league can start to get an idea of who is getting the job done and who might need a reduced role.
The idea isn't to make any rash decisions, but a three-week sample size is enough to see a trend. These players are off to rough starts and need to get things turned around quickly in Week 3 before their teams start looking to cut them out of the game plan or their public perception takes a big hit.
CB Anthony Brown, Dallas Cowboys
The Dallas Cowboys fought for a hard-earned victory against the Cincinnati Bengals to avoid an 0-2 start with Dak Prescott out of the lineup. If they are going to keep winning while their quarterback is away they will have to continue to play lights-out defense.
Dan Quinn's unit appears to be on pace to be a top 10 defense in the league once again. Micah Parsons should be the front-runner for Defensive Player of the Year and they just held the Bengals to under 200 yards passing.
However, the secondary is only as good as its weakest link and it's apparent that the weak link is Anthony Brown right now.
Starting opposite Trevon Diggs, Brown gets overshadowed but he's been a liability so far this season. He's one of the most-targeted defensive backs through two weeks, allowing 13 completions on 19 targets for 160 yards and a touchdown through two games.
He's on pace to give up 110 catches, 1,360 yards and eight touchdowns on the season. That's essentially an All-Pro season for whoever he is covering on a week-to-week basis.
To be fair, the Bucs and Bengals both have deep receiving corps so Brown was forced to cover the likes of Mike Evans, Julio Jones, Tee Higgins and Ja'Marr Chase.
This week, the Giants are on tap and Brown has no reason not to put up much better coverage stats. The Giants may be 2-0 but their top receivers have been Richie James and Sterling Shepard.
If Brown is still getting beat routinely, the Cowboys are going to have to look at other options.