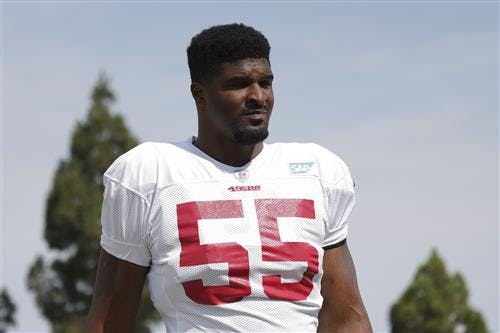 Week 1 was a good reminder that many NFL teams are one injury away from looking totally different.
Injuries are one of the most important and unfortunate realities of football. Players get hurt all the time, highlighting how depth is a crucial part of roster building.
Multiple players went down with serious injuries in Week 1 and are going to miss at least the next few weeks, if not the season.
Sometimes the solution isn't already on the roster. In those cases, teams have to look outside for help. Here's a look at a few key injury situations around the league and the free agents who could help those teams cope with the loss.
Baltimore Ravens Signing OT Eric Fisher
The Baltimore Ravens were already in trouble at left tackle with Ronnie Stanley working his way back from an ankle injury. Then backup Ja'Wuan James tore his Achilles in Week 1 and will be out for a second successive season because of the same injury.
It leaves the Ravens in a precarious position.
Stanley is one of the best left tackles in football when healthy, but he's only practiced three times since coming off the Physically Unable to Perform list. We also haven't seen him in game action since the season opener in 2021 because of the ankle injury.
According to Jeff Zrebiec of The Athletic, the Ravens are likely to "look around for tackle help," although he notes the options are thin.
He's right on that front. It's difficult to find a starting-caliber tackle in free agency, but Eric Fisher remains an option.
The former No. 1 pick started 15 games for the Indianapolis Colts last season, and while he did give up seven sacks, he scored a 68.2 grade from PFF. Patrick Mekari graded out at 60.3 in his 32 snaps last week.
Mekari's natural position is inside at guard or even center. Regardless of when Stanley is ready to go, the Ravens need a swing tackle to replace James. Fisher is the most proven option available right now.
Dallas Cowboys Signing QB Cam Newton
Dak Prescott's injury during Sunday Night Football makes the Dallas Cowboys a desperate team. Desperate times call for desperate measures—like calling up a 33-year-old Cam Newton.
This is one of those moves that is more likely to fail than succeed, but it's worth a shot.
The last time we saw Newton, it was borderline disastrous. He went 0-5 as the Carolina Panthers' starter last season. But as Baker Mayfield learned in Week 1, it isn't easy winning in Carolina right now.
We are just one season removed from Newton going 7-8 with the New England Patriots and being a passable starter in the league.
The Cowboys offense was downright bad against the Bucs. Even before Prescott sustained the thumb injury that required surgery, they were only able to muster three points.
It looked even worse with Cooper Rush at the helm. He went 7-of-13 for 64 yards and looked outmatched against an admittedly great Tampa Bay defense.
Former Newton teammate and Panthers receiver Robbie Anderson said during training camp that he felt like Newton wanted to play this year and was waiting on the right opportunity.