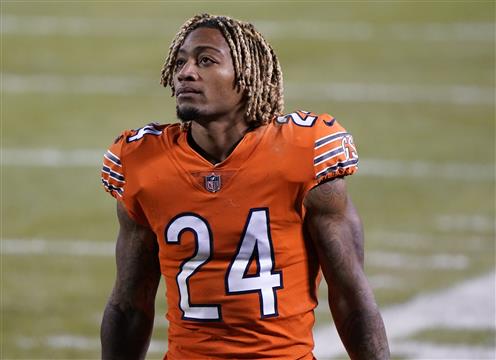 The NFL's Nov. 2 trade deadline is approaching. While the league doesn't always see a ton of activity at the deadline, the potential for blockbuster deals exists. The Carolina Panthers have dealt for cornerbacks CJ Henderson and Stephon Gilmore this year. In 2019, Jalen Ramsey, Leonard Williams, Emmanuel Sanders and Mohamed Sanu moved in-season.
Unfortunately, not every NFL buyer has the assets needed to work a trade. Some franchises are light on draft capital, while others are in a financial bind.
According to Spotrac, 16 teams have less than $5 million in cap space.
While franchises can usually find creative solutions when it comes time to make a trade, the free-agent market should be the first choice for some. Quality players are available, and many of them warrant a test drive before trades become the only solution.
We'll examine the best free agents—based on factors like past performance and upside—and how they mesh with some of the latest trade buzz.
Players are listed in alphabetical order.
TE Tyler Eifert
Philadelphia Eagles tight end Zach Ertz was traded to the Arizona Cardinals on Friday. Ertz had been the subject of trade speculation during the offseason, and according to ESPN's Jeremy Fowler, both he and Dallas Goedert had been linked to the trade market.
"Sources say tight end Zach Ertz thought he was getting traded at least twice in the offseason before things calmed down, and the Minnesota Vikings inquired about the Eagles' other tight end, Dallas Goedert, before eventually landing on Chris Herndon in an August deal with the New York Jets," Fowler wrote.
According to Fox Sports' Jay Glazer, teams had been calling about acquiring one of Philadelphia's tight ends. However, the Eagles aren't likely to trade Goedert with Ertz now gone.
Teams that missed out on the Eagles tight ends should take a long look at free-agent tight end Tyler Eifert. Though Eifert has not returned to the Pro Bowl form he flashed in 2015, he's been healthy over the past two seasons, which is huge.
Injuries held Eifert to 14 games from 2016 to 2018. However, he has appeared in 31 games over the last two seasons and played 53 percent of the offensive snaps with the Jacksonville Jaguars in 2020.
Eifert, who had 349 receiving yards and two touchdowns in 2020, is athletic, experienced and—perhaps most importantly—free to sign with any team.
RB Todd Gurley
There's a reasonable chance that we'll see a running back or two traded before the deadline. The Chicago Bears are without David Montgomery (knee), and the Kansas City Chiefs placed Clyde Edwards-Helaire on injured reserve this week with an MCL sprain.
Indianapolis Colts running back Marlon Mack, meanwhile, has requested a trade. And according to ESPN's Adam Schefter, the Baltimore Ravens have "received trade inquiries" about their running backs.
If a team like Kansas City or Chicago is thinking about trading for a running back, though, it should first kick the tires on three-time Pro Bowler Todd Gurley.
While Gurley last played at an elite level during the 2018 season, he has shown over the past two years that he can handle a sizable workload. He only averaged 3.5 yards per carry with the Atlanta Falcons last season, but he carried the ball 195 times while logging 25 receptions and scoring nine touchdowns.
For teams that want a back who can handle a significant role, Gurley is perfectly capable and won't cost any trade capital.
QB Cam Newton
According to Fowler, the Bears would "love" to move third-string quarterback Nick Foles.
"They've leaked that they'd listen to offers. They might as well have sent flares into the sky with the message 'Call us' in orange letters above each NFL team facility," Fowler wrote.
Foles could make sense for a couple of teams. He's a former Super Bowl MVP with 55 regular-season starts. The Washington Football Team is still playing without Ryan Fitzpatrick (hip), while Seattle Seahawks quarterback Russell Wilson is out indefinitely following finger surgery.
An obvious free-agent alternative to Foles is three-time Pro Bowler Cam Newton. While Newton isn't the MVP-caliber player he was in 2015, he showed last season that he is a serviceable starter. In a bad New England Patriots offense, he rushed for 12 touchdowns and helped New England achieve seven wins.
NFL Media's Ian Rapoport suggested before the season that Newton's high profile and big personality could keep him out of consideration for backup roles.
"You would also say, do you want Cam Newton, who has been a megastar, someone who is magnetic in the locker room … do you want him as a backup quarterback?" Rapoport said on NFL Network.
Concerns are justifiable, but bringing in Newton to be a short-term starter or to finish the season would make a lot of sense. In such a situation, he could help galvanize a locker room instead of being a distraction.