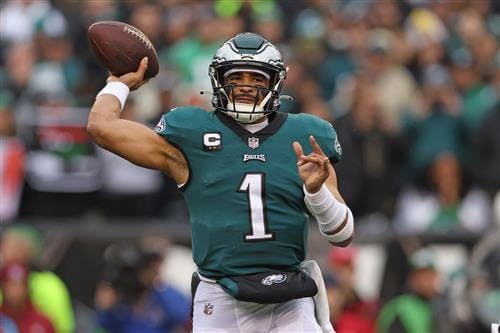 We haven't closed the door on 2023 NFL free agency just yet -- Bobby Wagner and Odell Beckham Jr. lead a list of top players still available -- but we're already glancing ahead to the potential of the 2024 class. At the moment, it looks loaded at a bunch of positions.
That said, things will change before free agency opens next year. The majority of the top players currently primed for 2024 free agency will sign contract extensions well before next March. Another handful will end up with the franchise tag. So take what follows -- a way-too-early look at the '24 class -- with a grain of salt because the free agent class will look very different next spring. We broke down the best of the best currently slated to hit the open market across a few different categories, including big-name quarterbacks and impact defenders. Each player's age, positional value, expected future production and scheme versatility are factored in here, and restricted and exclusive free agents are not included. Let's jump in.
Note: Players who are eligible for a fifth-year option in 2024 -- first-round picks from the 2020 draft class -- are not included. That includes quarterbacks Joe Burrow and Justin Herbert, receivers Justin Jefferson and CeeDee Lamb, and defensive end Chase Young, among others.
Quarterbacks to watch
Jalen Hurts
2023 team: Philadelphia Eagles | Age entering 2024 season: 26
Don't expect Hurts to be available in free agency; he should cash out with a multiyear extension that keeps him in Philadelphia next year and beyond. He has a prime fit in the Eagles' offense, which caters to his throwing traits and dual-threat ability. In addition to his 760 rushing yards and 13 rushing TDs in 2022, Hurts logged 3,701 passing yards. And his 68.5 QBR on pocket throws ranked third overall in the NFL. He's a rapidly ascending player who has jumped into the conversation of top-tier quarterbacks.
Kirk Cousins
2023 team: Minnesota Vikings | Age entering 2024 season: 36
Cousins should be targeted as a mid-tier starter who can produce passing numbers in a schemed NFL offense and find success off play-action elements. He has now topped the 4,000-yard passing mark in seven of his past eight seasons. And while the decision-making can sometimes be questioned (34 interceptions over the past three seasons), Cousins will have multiple suitors if he hits the market.
Ryan Tannehill
2023 team: Tennessee Titans | Age entering 2024 season: 36
In 12 games last season, Tannehill threw for 2,536 yards, 13 touchdown passes and six interceptions. His 49.1 Total QBR was 24th in the NFL -- one spot behind Cousins' 49.9 -- and his worst since 2018, when he was in Miami. He's a rhythm thrower who thrives on clean platforms and within play-action structure to deliver the ball with timing. Tennessee might be looking to make a change at quarterback, so Tannehill could certainly be among the top veteran QB options for another team next March.
Stars who could break the bank
Nick Bosa, DE
2023 team: San Francisco 49ers | Age entering 2024 season: 26
Bosa is a highly skilled technician with the power and short-area juice to create consistent pocket disruption. And he will alter other teams' protection schemes. With 34 sacks over his past two seasons, he is one of the top edge players in the league, and a contract extension in San Francisco should be on the horizon. Bosa finished last season with a 20.9% pass rush win rate off the edge (10th-best) and a league-leading 18.5 sacks en route to Defensive Player of the Year honors.
Chris Jones, DT
2023 team: Kansas City Chiefs | Age entering 2024 season: 30
Jones had one of his best seasons as a pro in 2022, registering 15.5 sacks and 22.5 disrupted dropbacks (both top-five numbers). And his pass rush win rate of 21.0% ranked No. 2 in the NFL among defensive tackles behind Aaron Donald. Jones is a premier player, and interior defenders who can rush the passer get paid big-time money.