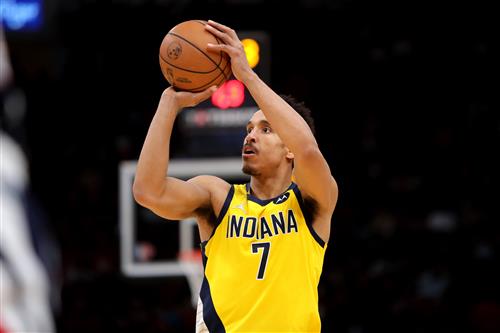 The New York Knicks were in talks with the Indiana Pacers about a potential Malcolm Brogdon trade ahead of the February 10 NBA trade deadline.
While nothing came to fruition on that end, the Knicks are likely going to kick the tires on the possibility again this summer.
"(Tyrese) Haliburton's addition has made the Pacers evaluate the future of their incumbent point guard, Malcom Brogdon, whom the Knicks have some interest in as he's a better defender and with more size than free agent Jalen Brunson. Brogdon is 6-foot-5 but comes with a heavy contract."
The Knicks have been looking for a quality starting point guard for eons now. Veteran Derrick Rose remains an injury-plagued enigma. Youngster Immanuel Quickley seems better suited for the two-guard spot.
It's led to widespread speculation that a move for veteran point guard could be in the cards. In addition to Brogdon, the Knicks have been linked to the likes of Jalen Brunson and Tyus Jones in free agency.
Below, we look at two ways a Malcolm Brogdon trade to the New York Knicks could look.
Malcolm Brogdon trade to the New York Knicks for draft assets
Fresh off a 57-loss season, the Indiana Pacers are clearly in full-scale rebuild mode. Their decision to deal All-Star big man Domantas Sabonis to the Sacramento Kings for Tyrese Haliburton back in February 10 added another layer to this.
Indiana will likely want a young players and draft assets back in any potential Brogdon trade. It makes sense given how well the guard has performed since he was initially acquired from the Milwaukee Bucks back in the summer of 2019.
Malcolm Brogdon stats (2019-22): 18.9 PPG, 5.1 RPG, 6.3 APG, 45% shooting, 35% 3-point
Sure there's some injury concerns here (Brogdon has missed 62 games over the past two seasons). But he's been an All-Star caliber point guard when he's on the court. That type of player rarely becomes available.