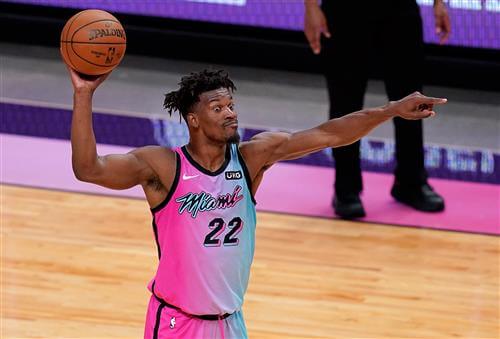 The New York Knicks were one of the best Cinderella stories in the NBA. After finishing 21-45 last year, the Knicks captured the No. 4 overall seed in the Eastern Conference. With the Most Improved Player of the Year in Julius Randle and a Coach of the Year candidate in Tom Thibodeau in the mix, the Knicks have a bright, budding future.
Read More- The Perfect Plan For The Los Angeles Lakers This Summer
After losing a five-game series to the Atlanta Hawks in the first round of the playoffs, the team has some important decisions moving forward. That also includes the decisions of converting the Knicks into the New York Bulls. Between the free agents on the market, as well as a potential trade chip, a reunion could be on the horizon.
Trading For Jimmy Butler
Randle clearly cannot be the No. 1 option on a contending team. Randle shot less than 30% from the field and relied on the offensive skills of a 32-year old Derrick Rose. The team needs a top-15 player in this league if they have any chance of contending for a championship.
When Jimmy Butler was a member of the Bulls and Timberwolves, he was an All-Star. Now, Butler has grown into an All-Star of his own, including leading the Miami Heat to an NBA Finals in 2019. The Knicks have a similar stature as that Heat team, relying on the defense to carry the heavy load.
Butler is one of the better two-way players in the league. For a potential trade, the Knicks can offer Obi Toppin, Kevin Knox, Immanuel Quickley, Mitchell Robinson, and two first-round picks in 2021. With Butler reunited with his former head coach for the third time, maybe it would be the third time the charm for Thibs to finally get to the NBA Finals.