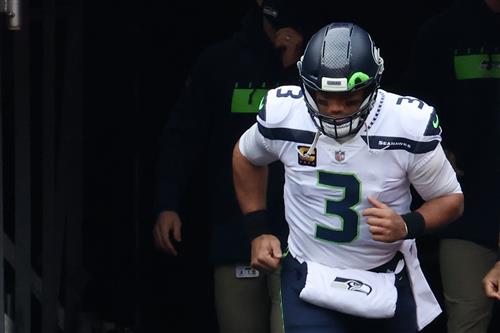 When you fire the offensive coordinator 11 weeks into the season, it usually means the season is lost.
Joe Judge had to axe Jason Garrett and there's no disputing that. But it's hard to imagine the New York Giants are suddenly going to rise up the NFC wild card standings with Freddie Kitchens at the controls for the final month-plus of the season, especially in a division where the Eagles and Football Team are trending up.
It's time for the Giants to do something drastic if they want to get out of the basement of the NFL. This offseason, the Giants must go all-in trading for Russell Wilson.
Wilson, of course, is under contract through the 2023 season after signing a four-year, $140 million extension in 2019. If Wilson wasn't happy in Seattle after a 12-4 season last year, he's probably not happy in what's probably going to be his first losing season of his career in 2021.
The Giants need a shot in the arm in a big way. Big Blue has the second-worst record in the NFL since the start of the 2017 season (21-53), trailing only their MetLife Stadium partners by one game.
A trade of this magnitude must work for everyone: Wilson, the Giants and the Seahawks. Here's why this makes the most sense.