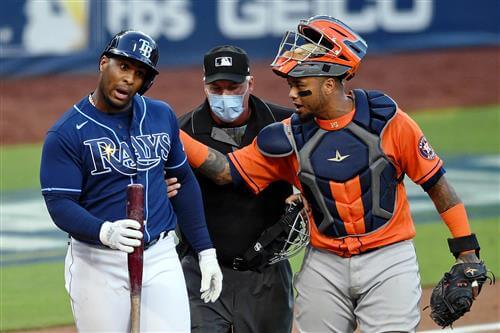 This is what a full-fledged meltdown looks like: Tampa Bay starter and 2018 AL Cy Young winner Blake Snell being hooked by manager Kevin Cash with two on, none out and a 1-0 lead in the fifth inning—and clearly unhappy about it.
This is what a high-definition meltdown sounds like: Lip readers easily seeing Snell mutter "What the f--k are we doing?" and, "Oh my God, man." And then the walls to the Rays' aquarium utterly collapsed over the next three innings with relievers Diego Castillo and Shane McClanahan getting swallowed whole.
Indeed, what are they doing?
Vampires live. One game away from elimination three nights ago, Houston evened this series with a breezy 7-4 cruise Friday, forcing a winner-take-all Game 7 in San Diego's Petco Park on Saturday night.
And right now, Tampa Bay is running low on crosses and looking plumb out of stakes to drive through the heart of this Astros team.
"Oh yeah, we're not through writing history," Houston manager Dusty Baker said. "I'm hoping we can have a happy ending to this historic season, this historic year. There's been a lot of famous deaths, the coronavirus, living in the bubble, life. There's been all kinds of stuff [and] this team has battled back, big time.