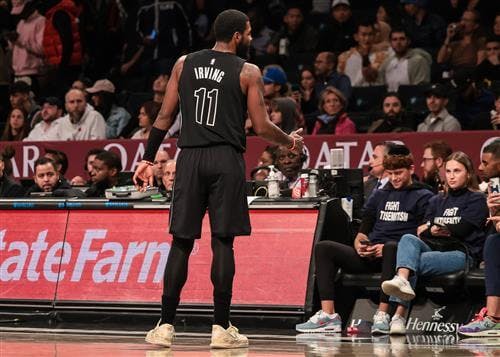 he Brooklyn Nets have suspended Kyrie Irving five games without pay after a turbulent week in which the All-Star posted an antisemitic video on Twitter and declined to apologize, the team announced Thursday.
The earliest Irving will be able to return is on Nov. 13 in a road game against the Los Angeles Lakers.
How the Nets got here with Kyrie Irving
Irving has been under fire since last week, when he tweeted a link to a documentary on Amazon containing a number of antisemitic conspiracy theories and falsehoods, including a fabricated quote from Adolf Hitler. The offending tweet has since been deleted, but the aftermath has remained messy for the Nets.
Irving spent days disregarding criticism and insisting he's not an antisemite, first with a tweet claiming to be an "omnist" and having meant no disrespect then in a combative news conference in which he claimed tweeting the video wasn't akin to promoting or endorsing it.
Adding to the pressure on Irving was his past posting of a conspiracy theory put forth by Alex Jones. During the news conference, Irving disavowed Jones' defamation of the Sandy Hook families that have led over $1 billion in litigation, but doubled down on the theory he posted as true.