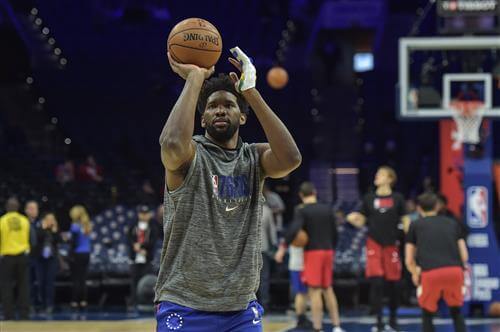 The Philadelphia 76ers just finished getting swept 4-0 to the hands of the Boston Celtics. Ben Simmons was out for the rest of the playoffs, so it was up to Joel Embiid and Tobias Harris to do the heavy lifting. The Celtics are a great team, but certainly not good enough of a team to sweep the Sixers like that. Joel Embiid simply was not enough to carry the Sixers at least to one win in the series, and his future with the Sixers is very much in doubt.
It is highly unlikely that this same Sixers team will be returning next season. As a matter of fact, it is very likely that the duo Ben Simmons and Joel Embiid is officially over. Since Embiid is a large center without much ball-handling or an overall game similar to Ben, he will likely be moved. For the Sixers, there is a very attractive trade package available. The Brooklyn Nets might have the best available trade package for the 76ers to accept.
Brooklyn already have two superstars returning next season, so grabbing Embiid would make them the favorites in the East. Here is why the 76ers should engage in a trade with the Brooklyn Nets to move Joel Embiid.
Trade Package: Caris LeVert, Spencer Dinwiddie, Jarrett Allen, 2020 second-round draft pick from Denver (Denver's 2020 2nd round pick to Brooklyn), 2021 second-round draft pick from Atlanta
(Atlanta's 2021 2nd round pick to Brooklyn)
A Superstar Big Three In Brooklyn
For Brooklyn, grabbing Joel Embiid is a no-brainer. A big three of Kevin Durant, Kyrie Irving, and Joel Embiid are enough to catapult them as the favorites in the East ahead of the Milwaukee Bucks and Boston Celtics. This season, they were swept in the first round of the playoffs as they were injury-ridden and did not have much talent on the floor. Next season, however, it could be a different story.