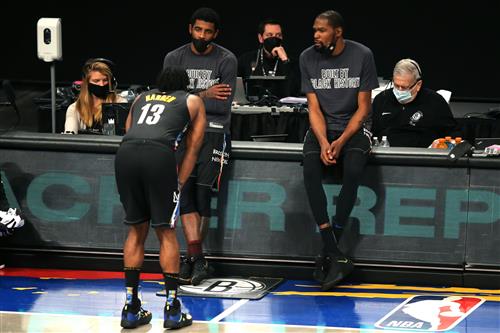 It was only three short months ago that the Brooklyn Nets traded every draft pick they possibly could, along with Caris LeVert and Jarrett Allen, to assemble arguably the most offensively talented Big 3 of all-time. Kevin Durant, James Harden, and Kyrie Irving are all capable of averaging 30 points per game individually and require double-teams when they're feeling it. Now they're on the same team, and it's difficult to imagine any defensive scheme capable of stopping them.
You wouldn't know any of that if you watched the last few months of Nets games, though. That's because the trio has only played seven games together to this point. Irving was on sabbatical for still-unknown reasons when the Harden trade went down and the former Houston Rockets superstar played his first game in black and white on January 16. Starting January 20, the team had two weeks where all were more or less available (Durant didn't dress for two games due to injury management and Harden was inactive for one in that stretch). Then Durant hurt his hamstring and missed every game from February 15 on.
Brooklyn was, of course, being cautious with the best of their three superstars by keeping him out this long. Hamstrings are finicky injuries and there's no reason to rush him back, especially in his first year post-Achilles tear. Durant is finally set to return to the court tonight, April 7 -- right after Harden hurt his own hamstring on April 5. Harden is set to miss at least 10 days and the team stressed they were going to be cautious. Assuming his hamstring injury isn't as severe as Durant's was, Harden will miss at least five games and could very well miss the next eight if he stays out a full two weeks.
That would put a Harden return on April 20. The Nets only have 14 games left in the season...