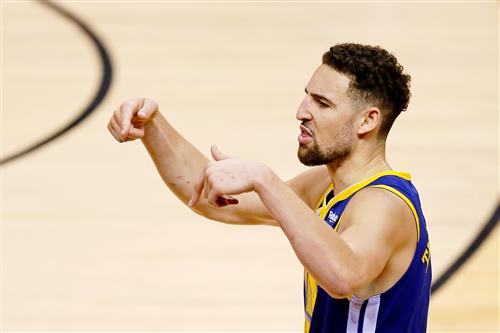 The first and most refreshing rule as we conjure new superteam-creating trades from deep within the imagination: No Ben Simmons, Damian Lillard or Bradley Beal allowed. Made-up trades involving those three have been done to death, and we're all tired of them.
Removing them adds to the degree of difficulty, but maybe the struggle will force some fresh thinking.
The trick with a superteam trade is that the club bringing in the most talent has to have a ton in place to begin with—and then not give up too much in the process. In each case here, we will pull in (at least) a third team to work around that issue, broadening the field of assets to increase transactional options.
Be warned: Some of these will get complicated and stretch the bounds of credulity. But then, that's really the only way to take a very good team and make it great.
The Warriors Land KAT
Golden State Warriors Receive: Karl-Anthony Towns, 2025 second-round pick (top-50-protected, via Thunder)
Minnesota Timberwolves Receive: James Wiseman, Jonathan Kuminga, Moses Moody, Luguentz Dort, 2026 first-round pick (via Warriors, top-eight-protected)
Oklahoma City Thunder Receive: Andrew Wiggins, unprotected 2022 first-round pick (top-eight-protected, via Warriors), 2022 first-round pick (lottery-protected, via Timberwolves)
The Warriors land the biggest prize, adding Karl-Anthony Towns to a closing lineup that would also include Stephen Curry, Klay Thompson, Andre Iguodala and Draymond Green. This would have been a much more tantalizing trade in 2018 or so, when all the incumbent Dubs were younger and, in Thompson's case, not coming off two major surgeries. But it still adds a ridiculously potent offensive weapon in Towns at a position of need, bringing almost unfathomable spacing by pairing him with Curry and Thompson.
Golden State strips the cupboard bare to do it, surrendering every young and promising player not named Jordan Poole plus a pair of future firsts, one of which goes to the Thunder as incentive to take on Andrew Wiggins' salary. In return, it fields a fearsome amount of shooting.
OKC also adds a lottery-protected first by sending Luguentz Dort to the Wolves, which sounds like an insufficient return for one of the league's better young defenders. But when you consider the Thunder's haul in its entirety—Dort and a future second that will never convey for Wiggins and two firsts—it's a solid deal.
Minnesota loads up on young talent, which would only appeal if Towns angles for a trade. Let's just assume for the sake of argument that's what happens, and that the Dubs' resistance to giving up their youth for a veteran applies to Ben Simmons and not Towns.
The Hawks Consolidate
Atlanta Hawks Receive: OG Anunoby, Dillon Brooks
Toronto Raptors Receive: De'Andre Hunter, Onyeka Okongwu, Brandon Clarke, 2023 first-round pick (via Hawks, top-eight protected)
Memphis Grizzlies Receive: Kevin Huerter, Cam Reddish, Chris Boucher, 2025 first-round pick (via Hawks, top-10 protected)
The Hawks can't keep all their young wings, especially as they begin to line up for more expensive second contracts. So they're packaging them in this deal to land, in my opinion, a transformative potential superstar in OG Anunoby plus even more defensive punch in Dillon Brooks.
Both Anunoby and Brooks have inked their post-rookie contracts, which locks in cost certainty while rounding out a roster led by Trae Young that already has ample shot-creation. In this scenario, the Hawks can close with a lineup of Young, Brooks, Anunoby, John Collins and Clint Capela. Bogdan Bogdanovic, Danilo Gallinari and Delon Wright would give them a formidable eight-man playoff rotation, one made even more dangerous by the small-ball options available with Collins or Anunoby at the 5.
Plus, the Hawks' youth corps won't be totally depleted with rookies Jalen Johnson and Sharife Cooper still in the developmental pipeline.
It's hard to imagine the Raptors ever parting with Anunoby, so we had to bowl them over. They land De'Andre Hunter, who appeared on a breakout path before a right meniscus injury derailed his second season. Onyeka Okongwu brings immensely promising defensive upside. He wasn't the sixth pick in 2020 for no reason, but his injury struggles—foot, Achilles, adductor, shoulder, etc.—and a frontcourt already manned by Collins and Capela make him expendable from Atlanta's perspective. The Raps also collect a first-rounder that should convey in 2023 and Canadian Brandon Clarke.
That's three players from the first round of the last three drafts plus another first. I wouldn't move Anunoby for this package because I think he has All-NBA upside if his offensive game improves, but it's not beyond the realm of the reasonable.