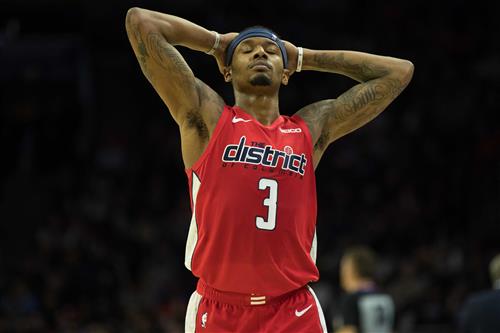 Another star is always on the verge of being traded in the NBA. Even if he needs to come out of nowhere, the league always has a next man up.
This summer alone is proof. The New Orleans Pelicans shipped Anthony Davis to the Los Angeles Lakers. The Oklahoma City Thunder dealt Paul George to the Los Angeles Clippers. The Thunder and Houston Rockets swapped Russell Westbrook for Chris Paul and draft considerations.
Who's got next?
History tells us it will be someone. However, this round of "But Who?!?" feels a little different. So many stars have changed teams over the past year that the Association is beginning to run low on breakup candidates.
People outside Milwaukee want Giannis Antetokounmpo to be part of the calculus, but we're at least one year away from that being a genuine talking point. Pick another top-30ish player at random, and he likely either recently moved teams or signed a new extension. Those players are usually off-limits in these conversations.
The next batch of bigwigs to monitor ahead of next year's trade deadline is not populated exclusively by breaking points that have been a long time coming. It also includes recently moved players and some with feasible paths to the chopping block before February.
Honorable Mention: DeMar DeRozan, San Antonio Spurs
Midseason shakeups aren't the San Antonio Spurs' thing. Reshufflings of any kind aren't their thing, actually. Last July's Kawhi Leonard blockbuster is an exception, and that breakup was of his own design.
Trading DeMar DeRozan would be out of character for the Spurs, especially if they don't do it this summer. They have not fallen out of playoff contention, and he isn't clogging up their books. He has a $27.7 million player option for 2020-21 that he'll likely decline since he'll be one of the top targets on the open market.
Going through next season and then letting his money come off the books is not a nightmare scenario for San Antonio. The Spurs have a jillion guards on their roster, and DeRozan's inside-the-arc game clashes with the return of Dejounte Murray and his own limited range.
Perhaps that depth will compel the Spurs to render a more immediate verdict. They need DeRozan to play the 3, but they can get small forward minutes out of DeMarre Carroll, Rudy Gay and Derrick White. If they don't want to lose him for nothing, they can look at whether he'll net a comparable expiring salary and a pick or prospect.
That same line of thinking holds true if the Spurs drop outside the Western Conference playoff picture. Betting against head coach Gregg Popovich epitomizes stupid, but this year's arms race is particularly brutal.
Up to 13 or 14 teams in the West will fancy themselves playoff-worthy at the start of 2019-20. Eight of those can talk themselves into being title contenders, including the Spurs. A handful of squads will get the boot. San Antonio hypothetically could be one of them.
DeRozan's market could turn this into a non-starter. A quick scan around the league yields zero no-brainer fits or potential suitors. He is an All-Star scorer and playmaker but caps a team's ceiling if he's a No. 1 or No. 2 option. It doesn't make sense for the Spurs to break character without getting a small ransom in return.
Bradley Beal, Washington Wizards
Bradley Beal can quash speculation about his future by signing a three-year, $111 million extension with the Washington Wizards at the end of July. That doesn't appear likely, as the Washington Post's Candace Buckner wrote:
"The team has indicated it plans to give Beal the offer, and both the player's camp and the franchise have remained in contact throughout the summer. Around the league, however, the extension is not viewed as a done deal, and there is a growing belief that Beal will not remain in Washington for his entire career."
Skirting an extension wouldn't necessarily mean Beal wants out. He has said he wants to retire with the Wizards and will be eligible for a longer and larger deal next summer if he makes an All-NBA squad.
To date, Washington has rebuffed inquiries into Beal's availability, according to ESPN's Brian Windhorst. That might change if he doesn't take the extension, regardless of whether he's asking out.
He can sign a five-year, $247.3 million extension with Washington next summer if he makes an All-NBA team. Giving him that much money when John Wall will still have three years and $132.8 million left on his contract might be steep enough to coax the Wizards into action.
Washington needs a permanent front-office figurehead before tackling that decision. Tommy Sheppard is the acting general manager and has taken the team through free agency and the draft, but he still carries the interim tag.
Beal's future is too important to confront with the front office in any sort of flux. And there may not be anything to reconcile. Beal is 26 and under contract for two more years. The Wizards can rebuild around him.
Sheppard told The Athletic's Ben Standig that trading Beal has "never crossed" his mind. It just isn't clear whether that's his call to make.
Kevin Love, Cleveland Cavaliers
Kevin Love is entering the first of a four-year, $120.4 million extension no one expects him to finish with the Cleveland Cavaliers. That sentiment isn't changing anytime soon.
The two sides hashed out an agreement at a curious time. LeBron James had just left for the Lakers, and the Cavaliers were gearing up for a lengthy rebuild without him, no matter how highly they thought of their roster before canning head coach Tyronn Lue.