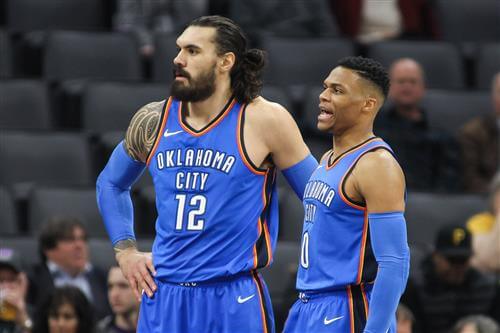 The NBA is always changing. I am going to allow to enter an alternate universe for a minute. Let's use knowledge and skills to match salaries and make some plausible which could jolt the NBA sphere. Sorry, Kyrie Irving the earth is not flat, but maybe this article will come full circle.
We are the weather, but we are going to forecast a potential trade storm. One or a couple that could ravage the association. We dare you to test these trades on NBA 2K19 or NBA Live 19. Let us know how it goes in the comments.
5. Russell Westbrook To The Houston Rockets
The Thunder Receive: Chris Paul, Clint Capela, Eric Gordon, Gary Clark and 3 future 1st rounders
The Rockets Receive: Russell Westbrook, Steven Adams and Andre Roberson
Why would the Thunder do it?
Westbrook does not want to be in Oklahoma City. This does not mean Sam Presti needs to completely blow it up. Just come up with a new diagram for success. Acquiring Chris Paul gives you a high IQ pass-first point who can also bring along a younger guard like Shai Gilgeous-Alexander. Chris Paul may have lost a step defensively as any player does with age, but his leadership and intelligence are unquestionable.
Swapping Clint Capela out for Steven Adams allows the chemistry of Chris Paul and Clint Capela to continue in a new location. The addition of Eric Gordon should not be dismissed, as he is a streaky but effective sharpshooter and plus defender.
Gary Clark adds another shooter to a helpless and space devoid Thunder squad. The Thunder have not had quality shooters in a long time. A first-rounder to sweeten the pot. Presti, pick up the phone because I think Houston would not have a problem with this deal.
Why would the Rockets do it?
The Houston Rockets could reignite the chemistry of Westbrook and Harden. These two together have unfinished business. A trip down the same alley with the same goal. These two were a part of the original Oklahoma City big 3 with Kevin Durant. You remember right? The team in 2012 that lost to the Miami Heat in 5 in the NBA finals.
Steven Adams is no Kevin Durant, but he could be considered as an upgrade over Clint Capela. I believe Adams is a better screen setter, better range even if just slightly, better ft shooter, and better post-game. A potentially healthy Andre Roberson gives Houston's opponents problems as he's one of the best perimeter defenders in all of basketball.
4. Steven Adams To The Chicago Bulls
The Bulls Receive: Steven Adams and Hamidou Diallo
The Thunder Receive: Wendell Carter Jr, Cristiano Felicio and a couple of first-rounders
Why would the Bulls do it?
The Bulls are arguably one player away from contending for an NBA playoff spot in the Eastern Conference. Steven Adams could complete a big 3 with Lauri Markannen and Zach LaVine in Chicago. Adams as a viable rim protector could shore up any of Lauri's defensive shortcomings. LaVine has improved as a playmaker over the years and Adams is a perfect lob target and pick and roll buddy. The Bulls play in a big market and their fanbase is growing sour. Time for Garpax to get a win and gain some credibility back. Establish a direction. Dropping Felicio's deal gives the Bulls good cap flexibility.
Hamidou Diallo is not just a throw-in. Diallo is a freak athlete who has an immense defensive upside. Upside if groomed correctly can translate to results. The Bulls are built to be a run and gun team. Diallo is always a plus to achieving that style of play.
Why would the Thunder do it?
The Thunder are clearly starting a rebuild. They have exited the first round the last two seasons and are searching for a fresh start. Why not get assets for trading your best big man? Wendell Carter Jr out of Duke is a young and raw stud. The big man has the range and is a different style of big than Adams. The upside of a young big man is the chance for growth.
Felicio on the surface is a temporary terrible deal, but it can work out if used he can be an effective bench piece in spot minutes. A dog on the glass who is raw offensively. Rawness if the developed right can turn to something more. Maybe, time in G League could do him good. A chance to reinvent himself.
3. Kevin Love To The Portland Trail Blazers
The Trail Blazers Receive: Kevin Love
The Cavaliers Receive: Hassan Whiteside
Why would the Trail Blazers do it?
A team's success is predicated on fit. Kevin Love would integrate seamlessly into the picture Portland. The star stretch four would complete a potential big 4 in Portland with Dame, CJ, and Nurkic. Of course, once Nurkic returns from his bad leg injury. Portland is so close to an NBA final. As the great Channing Frye said something along the lines of getting Kevin Love to Rip City. This is a mere paraphrase.