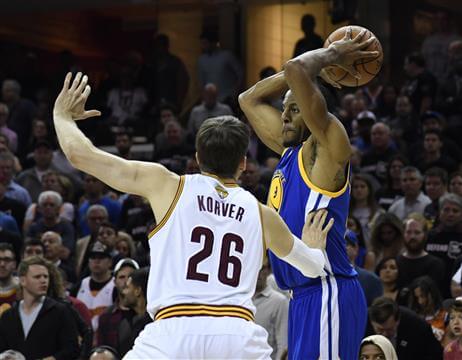 The Los Angeles Lakers have been one of the busiest franchises this offseason, the team now has just one more spot available on the roster. Some of the big names that the Lakers have brought into the team include Pelicans big-man Anthony Davis, Warriors' DeMarcus Cousins and champion of the Toronto Raptors, Danny Green.
There's now plenty of debate about what the Lakers should do with the final spot of the roster. We've decided to put forward three potential options that the franchise should consider chasing after for the final spot.
1. Kyle Korver
Kyle Korver is certainly a possible option for the Lakers to sign, the 38-year-old has plenty of history with LeBron James and a reunion of the two might be in the cards. Korver was waived by the Phoenix Suns on the 8th of July after being part of a trade with the Memphis Grizzlies, landing there after a dramatic swap that had Mike Conley heading to the Utah Jazz.
The 38-year-old has always been known for his shooting and many are wondering why he hasn't been picked up by the Lakers yet. ESPN's Kevin Pelton believes that the franchise may value flexibility more than adding another shooter to the roster, this would keep an open spot for the buyout market later in the 2019-20 season.
I can't speak to his thinking but the Lakers may want to keep a roster spot open for the buyout market.https://t.co/Cz9WyYfuec

— Kevin Pelton (@kpelton) July 18, 2019
The Lakers have loaded up on shooters already this offseason such as Danny Green, Avery Bradley, Jared Dudley, Quinn Cook and Troy Daniels. This lessens the value of a player like Korver since he isn't adding much more to the roster.
Korver may have been a lock for the Lakers to sign if he was waived a bit earlier, however, his position in the league is now uncertain, the veteran may have missed his chance to reunite with LeBron.
2. Andre Iguodala
Andre Iguodala is now a part of the Memphis Grizzlies as his time with the Golden State Warriors have come to an end. However, most NBA franchises are aware that the slower and steadier rebuild in Memphis is just not suited for the 35-year-old.
The Lakers are a potential franchise who could step in here and make a trade for the new member of the Grizzles. According to Marc Stein, the asking price is reportedly a future first-round pick and that the Grizzlies will enter the season with Iguodala if no franchise is willing to offer it up.