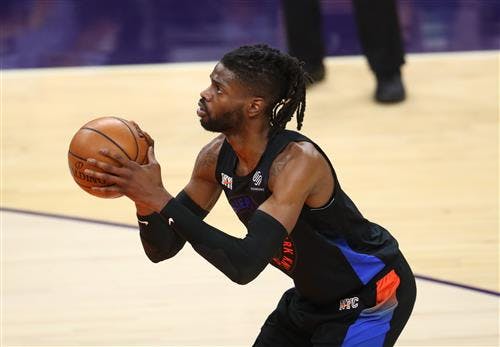 Most of the 2021 NBA free agents who returned to the teams they played for last season made the right decision.
Kawhi Leonard, Chris Paul, Mike Conley, John Collins, Jarrett Allen and Duncan Robinson were among those who stayed put and were wise to do so, as they fit well with their existing teams.
But for a few players who decided to re-sign, their situations are far more questionable.
Whether it means returning to a perennial loser, agreeing to a backup job or not chasing a bigger payday elsewhere, these five players should have switched teams in free agency.
Mike Muscala, C, Oklahoma City Thunder
With every NBA team needing floor-spacing bigs, Muscala should have been in demand. But he settled for a two-year, $7 million deal with the Thunder that includes a team option in the second season.
The 30-year-old center averaged a career-best 9.7 points and shot 37.0 percent from three on a healthy 5.3 attempts per game last year.
Oklahoma City could be the worst team in the NBA this season, a franchise that has prioritized picks over players and rid itself of nearly every veteran in its incredible tanking efforts. For example, after acquiring Kemba Walker in a deal with the Boston Celtics for Al Horford, the Thunder bought out Walker.
There's no chance Muscala gets a chance to sniff the playoffs in OKC this season, and he may not have a starting job, either.
Days before he re-signed, the Thunder agreed to take on Derrick Favors' contract to collect a 2024 top-10 protected first-round pick from the Utah Jazz.
Favors will almost certainly start for OKC (if he's not bought out or traded first), meaning Muscala will be the second-string center, at best. Muscala also faces the possibility of being shut down after a few months so the Thunder can tank. After all, he was a healthy scratch for the final 33 games of the 2020-21 season.
Muscala would have been a nice addition to a contender's bench, especially for a Los Angeles Lakers team that desperately needs spacing after the Russell Westbrook trade. Muscala would have likely had to take a slight dip in salary on a veteran's minimum deal ($2.6 million compared to his $3.5 million) by signing with the Lakers or another contender, money that could have been partially offset by a deep playoff run.
Bruce Brown, G/F, Brooklyn Nets
Heading into restricted free agency following a strong year with the Brooklyn Nets, it looked like Brown would cash in elsewhere given the Nets' enormous luxury tax bill.
The New York Post's Brian Lewis wrote that "the Nets had been worried about Brown's market reaching $8 million or perhaps even $10 million," as rival teams had the ability to sign him to an offer sheet that Brooklyn may not have been able to match.
Instead, Brown accepted the qualifying offer for a mere one-year, $4.7 million deal.
For a 2018 second-round pick looking to cash in for the first time, this was a puzzling decision. Sure, the Nets are likely the championship favorites if they stay healthy next year, but usually players sign at bargain prices to win at the end of their careers, not at age 25.
"I really didn't pay it any mind, honestly," Brown told reporters. "I thought everything would take care of itself. I really was just working out the whole time, and then when free agency started, I actually was on the plane back to New York. So I didn't really talk to anybody until I landed. I'm just happy to be back. It's a great fit. I didn't want to go anywhere else."
In Brooklyn, Brown will win, but his opportunity to grow and develop into anything more than a rotation player off the bench is extremely limited.
Seeking a starting role on a winning team elsewhere, or even a one-year deal with the Nets that was higher than his qualifying offer, would have been the better choice.