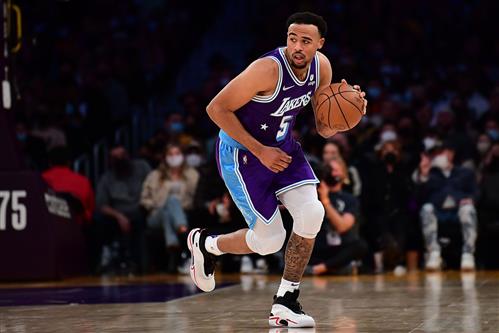 The trade deadline is fast approaching, and there hasn't been much movement regarding some of the top players in their positions. Rather, it has mostly been a lot of talk without action for some top contending teams including the Los Angeles Lakers, Philadelphia 76ers, and Boston Celtics. But if there is one thing we are aware of, it is the fact that teams like to wait until the trade deadline is around the corner before striking their deals in order to see what else is out there and to keep their options open.
While we expect to see the same thing this season, we also expect to see at least ten very capable players moved this season. While it would be unlikely that every single one of these players is moved at once, it wouldn't be surprising considering the expectations of some of the league's top teams. Here are the players from every team who are most likely to play on new teams before the trade deadline.
Atlanta Hawks - Danilo Gallinari, Cam Reddish
The Atlanta Hawks exceeded expectations by making the Eastern Conference Finals led by their superstar Trae Young last year. The roster has incredible pieces that fit together, but they need to focus their core on Young, John Collins, and Clint Capela. The Hawks also need to clean their roster up, because they cannot afford to pay everyone. Gallinari has regressed, and Reddish is the most attractive trade piece not named Trae Young on the team right now. Atlanta should try to move some pieces around for another win-now player.
Boston Celtics - Marcus Smart, Al Horford
The Boston Celtics made it clear that they are all-in on building around Jayson Tatum and Jaylen Brown. Marcus Smart is key to what Boston does on defense, but he will likely be sacrificed in favor of another piece to improve Boston's starting lineup. Not to mention, Smart's comments earlier this season have made him a player the franchise can do without. The key for Boston is moving Smart (and Horford if possible) with valuable first-round picks for a third All-Star player because the team is not performing well.
Brooklyn Nets - Joe Harris, Blake Griffin
The Brooklyn Nets are the most talented team in the NBA when Kyrie Irving plays. With Irving limited to away games, the Nets need to find Kevin Durant and James Harden some help. Patty Mills has been a blessing, but Joe Harris and Blake Griffin have not. Harris is making ridiculous money so it will be hard to move him, but pairing him with Griffin could bring in a role player that can help right now (perhaps Gary Harris from Orlando).