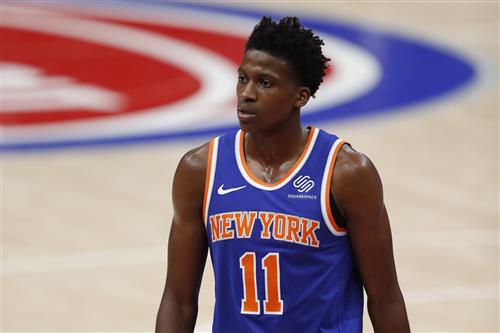 Many of the biggest names that were due for free agency in 2021 have already signed extensions with their current clubs, weakening the class' top end. But as is the case every offseason, plenty of talent is still available.
For non-stars, success on a new team is all about a change of scenery, finding the right situation or a combination of the two. Last year's examples include Bogdan Bogdanovic in Atlanta and Jerami Grant in Detroit, while Julius Randle's 2019 signing with the Knicks is clearly starting to pay dividends as well.
Read More- Draymond Green Responds To Fan Who Wants Kawhi Leonard On The Golden State Warriors
With this in mind, let's take a look at some impending free agents who could blossom with a team change. As a logistical note, we've selected a few players who are restricted free agents and one with a player option, two contract statuses that complicate their ability to sign with another team for various reasons.
Spencer Dinwiddie (Player Option)
Though he's coming off a partially torn right ACL, it's possible—perhaps even likely—that Spencer Dinwiddie declines his $12.6 million player option for the 2021-22 season.
First, he'll likely get more money than that on the open market. The last time the Colorado alum was healthy for a full season, he averaged 20.6 points and 6.8 assists per game, a stat combo only matched by some of the league's elite guards (and Nikola Jokic) this year. Dinwiddie's efficiency lagged behind most of those players, but the point stands that when he's healthy, he's a force to be reckoned with on offense.
Secondly, though, Dinwiddie is now superfluous in Brooklyn. With the offense running through Kevin Durant, James Harden and Kyrie Irving on virtually every possession, much of his appeal is lost, and players like Joe Harris and Landry Shamet have established themselves as superlative off-ball threats in Dinwiddie's absence. You could argue that he'd feast more than ever alongside the Nets' fleet of scorers, but there is such a thing as too much talent, and with the 28-year-old not quite good enough to be a star and overqualified to be a role player, he's currently adrift on the roster.
With some salary machinations, teams like the Pelicans and Warriors could sign Dinwiddie, fill major roster holes and give him significant opportunities for growth in the process.
Talen Horton-Tucker (Restricted)
Though he hasn't played much in the playoffs, Talen Horton-Tucker put together an impressive regular season for the Lakers. The second-year pro got more minutes than players like Marc Gasol and Wesley Matthews while finishing third on the team in assist percentage.
In fact, he was such a strong addition to Los Angeles' rotation that back in February, ESPN's Brian Windhorst reported that "people think [Horton-Tucker] could get the Tyler Johnson poison-pill contract." In case you've forgotten, that's a reference to the four-year, $50 million deal that Johnson signed with the Miami Heat in 2016.
A lot's changed since February for the Lakers. Neither Anthony Davis nor LeBron had suffered their season-altering injuries when Windhorst relayed that theory, and their absences may have reminded the Lakers of the urgency to win as much as possible while LeBron is still in peak form. If that's the case, then GM Rob Pelinka may look to acquire more experienced veterans in the offseason, potentially sacrificing a less-developed prospect like Horton-Tucker in the process. This might be doubly true if a team like the Bulls or Wizards presents a Tyler Johnson-level offer to the Lakers for the Iowa State alum, and he'd do well to find a team with consistent minutes available.
It's understandable that Horton-Tucker's been benched for the playoffs, but he showed a lot this year. With more development and playing time, he could be in for a breakout campaign in Year 3.