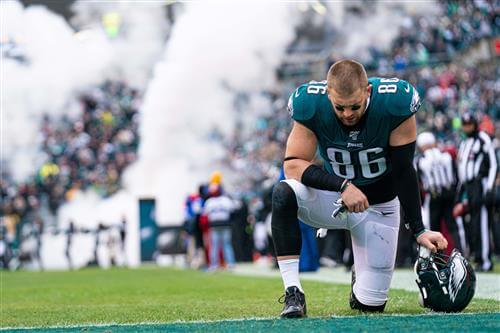 While trade talks in Philadelphia have centered around Carson Wentz, one of Wentz's top targets is also expected to be shipped out of town this offseason.
Zach Ertz, who came to represent the Eagles as much as any other player before, during and after their Super Bowl run, is on the trade block after reportedly getting into a "heated exchange" with general manager Howie Roseman last year amidst a contract dispute. The issues carried over to the regular season where Ertz had the worst season of his career, accumulating 335 yards and scoring only once in 11 games.
Ertz will make $8.5 million this year but has nothing guaranteed after that. He wants a new contract and seems ready for a change of scenery too. So where is Ertz most likely to end up? Let's take a look.
Seattle Seahawks
Russell Wilson recently voiced his frustration with the organization and desire to have a bigger say in personnel decisions. Ertz could provide a sure-handed security blanket for Wilson and a large red zone target. We know Wilson loved the connection with Jimmy Graham for all those years. While Ertz now isn't what Graham was then, the Seahawks have a big hole to fill at tight end and Ertz could be part of that solution.