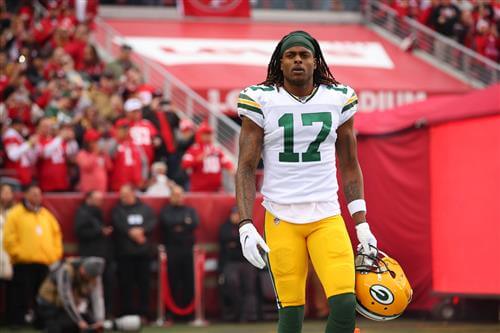 As if Green Bay Packers fans didn't have enough to stress about.
On Friday, NFL Network's Ian Rapoport reported that contract extension talks between the Packers and All-Pro wide receiver Davante Adams have "broken off," with "no current plans to resume them."
"The two sides have been negotiating for months, but they are now in a bad place," a source told Rapoport, who added that "the proposals have not acknowledged Adams as the highest-paid WR."
So it's looking increasingly likely that the four-time Pro Bowler will hit the open market as a 29-year-old in 2022, regardless of whether Aaron Rodgers is still quarterbacking the Packers (although his presence might help keep Adams on board).
With that in mind, let's look ahead at half a dozen teams that would be particularly well-positioned to make a run at Adams next March.
Las Vegas Raiders
Not too long after Adams suggested earlier this offseason that his future with the Packers could be cloudy if Rodgers doesn't remain in Green Bay, he also said "it would be a dream" to play with college teammate Derek Carr.
Carr happens to be the starting quarterback for the Las Vegas Raiders.
"Davante, he's one of my best friends," Carr said recently on Cris Collinsworth's podcast, per ProFootballTalk. "I'm gonna offer him whatever I gotta offer. I'll buy him a car, whatever I've got to do I'll offer that man. I know he would fit in great with the receivers we have here. He would fit so well in that room. I'm allowed to say those things. Our organization isn't, but I'm going to say it. He's my best friend, I think he's one of the best—he's the best receiver in the NFL."
But Carr didn't stop there.
"He's focused on being a Packer and I know that because I see how he works," the 30-year-old three-time Pro Bowler added. "I know how he works and I know how much it means to him. He's focused on that and I'm focused on trying to get to the Super Bowl, win the Super Bowl, hopefully he's in it so I can beat his butt too. That's the plan, then recruit him over to the dark side."
Beautifully put. And while his team does hope 2020 first-round pick Henry Ruggs III can become special, that's still to be determined, and Adams and Ruggs are very different players anyway.
Per Spotrac, the Raiders are on track to enter the 2022 offseason with roughly $49 million in salary-cap space, ranking eighth in the NFL in that metric. So it should be no surprise they lead this list.
Chicago Bears
When they traded up for Justin Fields in the first round of April's draft, the Chicago Bears signaled that they're getting pretty desperate to make something work with the current regime. The reality is general manager Ryan Pace and head coach Matt Nagy must be running low on time.
But because Fields is a rookie who might not even start Week 1, 2022 is more likely to be that group's make-or-break year than 2021. And now, top Bears receiver Allen Robinson is destined to hit the open market next March after he and the team failed to come to terms on a long-term deal by the July 15 deadline to sign franchise-tag recipients.
Replacing Robinson with a familiar star from the same division would be a pretty boss move from a front office that has become increasingly bold. And with approximately $37 million in projected salary-cap space, it's a move they could probably afford to make.