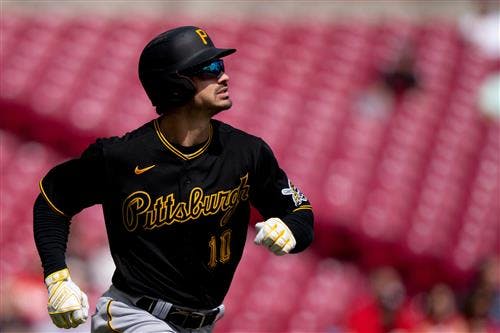 The Winter Meetings are well under way in San Diego. Jacob deGrom's stunning five-year pact with Texas was just an appetizer for the free-agency frenzy that has begun to unfold, with Trea Turner's 11-year, $300M pact with the Phillies and Justin Verlander's $86M deal over just two years with the Mets headlining the biggest contracts thus far.
But having all 30 front offices under one hotel roof is also a tremendous opportunity for the other biggest element of any offseason: wheelin' and dealin'. As we eagerly await the destinations of the top free agents to materialize, let's turn our attention to the current state of the trade market. Will some of the biggest names we see move come via trade? Which teams are in the strongest position to deal from positions of depth? And which teams are more likely to fill a positional need via a cleverly constructed trade rather than spend the big bucks in free agency?
Let's get this out of the way: This list does not include Shohei Ohtani. I don't blame anyone for being skeptical when Angels GM Perry Minasian began this offseason by declaring his intention to keep the two-way sensation despite his looming free agency next winter. There are countless examples of early offseason rhetoric ultimately being proven farcical. In this case, however, actions speak louder than words, and the moves Minasian has made thus far — signing left-hander Tyler Anderson and reliever Carlos Estévez; trading for Gio Urshela and Hunter Renfroe — suggest that the Angels are indeed attempting to build a winning roster around Ohtani and Mike Trout for 2023, even if Ohtani might not be sticking around for the long haul. Should that team underwhelm in the first half, a trade next July feels far more realistic. For now, though, the living legend appears to be staying put.
Interestingly, there have already been several players with one year left on their contracts dealt this offseason, including the aforementioned Angels additions Renfroe and Urshela. Ji-Man Choi, Teoscar Hernández, Kolten Wong, and Jesse Winker have also been traded, reminding us that many teams feel they can get more in return now than if they wait until July when the player is strictly a 2-3 month "rental" for the acquiring team.
All that said, based on the buzz at the Winter Meetings and various reports over the past few weeks, these are the players that I think are most likely to be swapped this winter:
1. Bryan Reynolds
Reynolds had been subject to trade rumors for several years now, but last week he reportedly requested a trade out of Pittsburgh. The Pirates may still be a long way from contention, but I don't get the sense that they have the appetite to ship out arguably their best player for a bunch of teenagers who might not arrive in Pittsburgh until 2026. It's possible some team puts together an overwhelming offer that features young players that can help the Pirates right away and are under team control for longer than Reynolds' three remaining years, but that's the only scenario I see them caving to Reynolds request — at least for now.
2. Sean Murphy
If not Reynolds, the safest bet for the biggest name moved is Murphy, whom Oakland is reportedly close to dealing. We're talking about a top-10, arguably top-5 catcher under contract through the 2025 season. That's an awfully valuable player! While the Pirates have publicly denied a willingness to move Reynolds despite his reported request, all indications out of Oakland suggest that trading Murphy for one more enormous prospect haul will indeed be the final exodus of the dramatic rebuild the club has undertaken over the past 18 months.