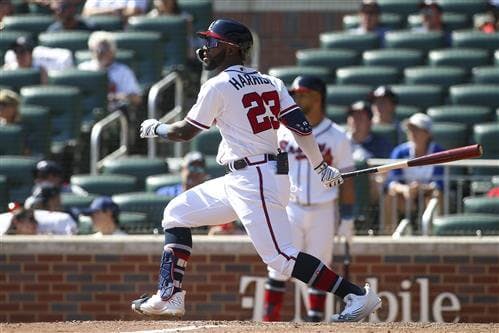 One of the things I love about the postseason is there always seems to be an unexpected October hero. We all expect the superstars to shine at this time of year, but it's often an "under-the-radar" player who serves up an unforgettable moment and writes himself into baseball history.
Remember when outfielder Cody Ross was the hero for the Giants in 2010 to such an extent that broadcaster Duane Kuiper started calling him "Babe Ross"? Or how about shortstop Juan Uribe (in 2010) and first baseman Travis Ishikawa (in '10 and '14)? When the Giants won World Series titles in 2010, 2012 and 2014 they were loaded with stars — from Buster Posey to Tim Lincecum to Madison Bumgarner — and yet we were still talking about Ross, Uribe and Ishikawa just as much during those postseasons.
How about 2006, when David Eckstein — not Albert Pujols or Yadier Molina — was named World Series MVP for the Cardinals? Everyone remembers Luis Gonzalez's walk-off hit against Mariano Rivera in the 2001 World Series, but Craig Counsell was the NLCS MVP who helped the Diamondbacks get there and he also hit a first-inning homer off Mike Mussina in Game 1 of the Series.
How about when Steve Pearce hit a pair of homers in the Red Sox title-clinching win over the Dodgers in Game 5 of the 2018 World Series? Or how about Alex Gonzalez, who hit a walk-off homer for the then-Florida Marlins in Game 4 of the 2003 World Series?
This year's postseason field is set and the stars of the game are ready to take the biggest stage, but let's have some fun and predict some lesser-known names or unproven playoff performers, one from each of the 12 teams, who could be the October heroes this time. And let's hear your predictions in the comments section.
American League
1. Astros — Cristian Javier, RHP
The Astros are loaded with position player stars, from outfielders Kyle Tucker and Yordan Alvarez to infielders Alex Bregman and Jose Altuve. The top of their rotation is special with Justin Verlander, Framber Valdez and Lance McCullers Jr. By contrast, one Astros pitcher has flown under the radar nationally: Cristian Javier, who could end up starting and/or relieving for Houston in the postseason. Javier has gone 11-9 this season with a 2.54 ERA and 194 strikeouts in 148 2/3 innings. He ranks in the 94th percentile in K% (33.2). He has been worth 3.7 WAR, according to Baseball Reference. It will be interesting to see how future Hall of Fame manager Dusty Baker uses Javier during the postseason. The 25-year-old right-hander could be a series game-changer for the Astros.
2. Yankees — Oswaldo Cabrera, INF/OF
We are all thinking (well, at least most of us are thinking) that Aaron Judge will just do what he did during the regular season in the postseason, and we'll probably be right. However, he also could be a victim of frequent intentional walks. And if the Yankees' veteran power hitters such as Giancarlo Stanton and Anthony Rizzo can't get it done, New York might need to ride its pitching and defense to playoff success, with clutch hitting coming from unexpected sources. That's where Oswaldo Cabrera comes in. I don't know if Cabrera will start in left field or be used in a platoon or as a versatile player off the bench, but after watching him down the stretch, he looks like one of this year's potential October stars. He plays with high energy and passion. He has good range in the outfield. He's a switch hitter with surprising power who can take advantage of the short right-field porch at Yankee Stadium. Cabrera has hit six home runs in his first 167 plate appearances in the major leagues. I love his swing. It reminds me of the swing of former Yankee Carlos Beltrán when he first came up to the big leagues with the Royals.