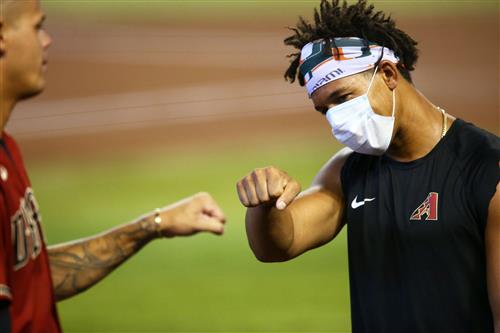 As Cody Bellinger waited out Major League Baseball's coronavirus-driven shutdown in his native Arizona, he saw the evolution of facial coverings firsthand.
Arizona moved quickly through its reopening phases, complete with images of packed bars and patios over Memorial Day weekend, and then three weeks later, as cases predictably spiked, saw mandatory mask orders passed by both Phoenix and Maricopa County.
So when the reigning National League MVP arrived in long-masked Los Angeles for the Dodgers' camp workouts, he was prepared – for almost anything.
"It's not even a hassle for me," Bellinger said this week. "Sometimes I forget it when I'm leaving and gotta walk back upstairs and get it. I don't think it's a hassle to wear a mask. If your breath stinks, it sucks.
"But it just means you brush your teeth a little more."
Baseball has avoided the politically-charged battles over face coverings that have played out in the aisles of big-box stores and bistros alike; in fact, MLB's protocols require them in almost every non-playing setting.