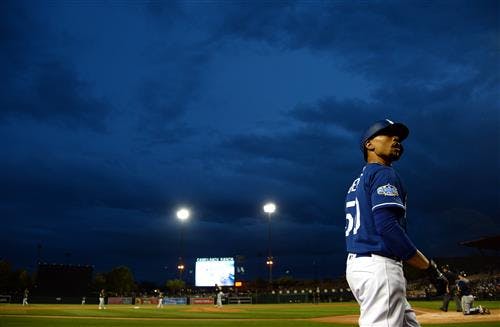 Watching Major League Baseball start a second "spring" training now, amid surging coronavirus infections in the states where many hundreds of ballplayers reside, is like climbing into a sailboat just as the outer bands of a hurricane swirl closer on the horizon.
But this is where baseball is in this moment, and if you work in the industry, you almost feel a need to avert your eyes, given the staffers and players and family members who will be at increased risk in the days ahead for the sake of a handful of games. If you are part of the army of folks assigned to make this work, there's nothing you can do but your best, without any real precedent, training or substantive preparation on which to rely. All teams and players have been given the 100-plus pages of health and safety protocols, with color-coded charts, social-distancing workout diagrams and diagnostic questionnaires, but the material is entirely new and unfamiliar.
There is a lot of ground to be covered in the text, but there is so much more that cannot be accounted for, such as the moving virus hot spots through which each of the 2,000-plus team members could pass to unknowingly become carriers. We know from the national example that there is no real-world guidance to be given when some players and staffers don't share the same social-distancing vigilance as their peers, even as the number of new positive cases nationwide grew from about 18,000 on June 15 to almost 45,000 reported on Saturday.
Everybody in the game naturally has fingers crossed that this could work, fingers crossed to get through the summer camp, the 60-game regular season and the postseason that could be especially lucrative for Major League Baseball. But among some at field level, there is enormous skepticism that they will all get through this, as planned, and concern that they will court tragedy along the way.
The science of infections is daunting, and the math is overwhelming. As one team official noted, the National Basketball Association will attempt a restart of its season in a bubble of containment in Orlando, Florida, attempting to wall off the coronavirus and outsiders at risk for infection. Major League Baseball, on the other hand, will try to conduct business in dozens of venues, and after their workouts, players will return to their homes and apartments and hotel rooms to loved ones who have been exposed to others outside of any theoretical bubble.
The NBA will try to do its work under one roof, with access restricted. MLB's season will be one long wade through humanity, with roving bands of players moving from state to state, city to city, hotel to hotel under the best circumstances. At worst, players will venture outside of the safe zone -- something that staffers fully expect will happen on a regular basis.
In Houston, hospitals are near or at capacity because of those infected with the coronavirus. Carlos del Rio, an epidemiologist at Atlanta's Emory University Medical School, was asked by ESPN's Willie Weinbaum about the return of Major League Baseball to Houston in this moment. "I think Houston should not have anything like that happen," he said. It might require months, Dr. del Rio said, to get the COVID-19 emergency under control. "I realistically don't think you're going to be able to play in Houston."
Oakland A's reliever Jake Diekman joined the Baseball Tonight podcast Friday and discussed the reality that peer pressure will be important, that in a sense, players will have to police one another from slipping out at night to do less than social distancing. There are club officials, however, who believe that this is a high bar of conduct that is probably out of reach. The sport's best chance is for everybody to pull in the same direction, but you'd sooner expect labor peace in baseball than for all of the polarized perspectives to merge at once. Wearing a mask is like choosing not to drink and drive -- it's about protecting not only yourself but also others whom you might put in harm's way -- but there is no unanimity about how to regard COVID-19.