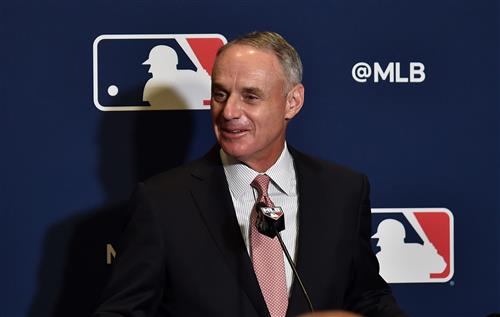 On the eve of what would have been Major League Baseball's opening day, commissioner Rob Manfred indicated that the league is "probably not gonna be able to" play a full, 162-game regular season.
"My optimistic outlook is that at some point in May we'll be gearing back up. We'll have to make a determination depending on what the precise date is as to how much of a preparation period we need," Manfred said in an interview Wednesday night on ESPN's "SportsCenter With Scott Van Pelt," adding: "But the one thing I know for sure is baseball will be back. Whenever it's safe to play, we'll be back. ... We will be part of the recovery, the healing in this country from this particular pandemic."
An executive with knowledge of the negotiations told USA TODAY Sports that MLB and the players union are close to reaching an agreement on critical economic issues with hopes of salvaging the majority of the 162-game season, even if it means playing regular doubleheaders and the World Series in late November.