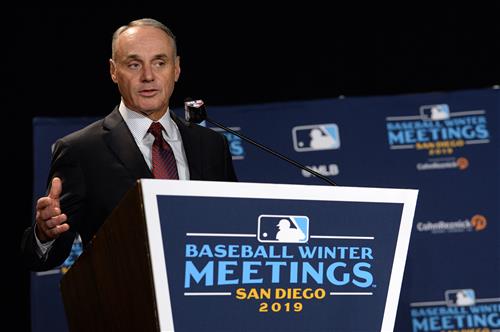 A two-tiered negotiation unlike any in the roughly 150-year history of Major League Baseball or the 54-year history of the MLB Players Association proceeds this weekend on parallel tracks, with nothing less than the fate of the 2020 season at stake. The issues: how to play baseball amid an ongoing global pandemic, and how to divvy up a shrinking pile of money.
Both carry immense challenges – in the case of the former, how to maintain the spirit of the game and some semblance of personal freedoms while keeping everyone healthy, and in the case of the latter, how to overcome deep philosophical differences and distrust built up over half a century of contentious coexistence.
And time is running out.
On the other side of Memorial Day, baseball will reach what should been the two-month mark of a six-month, 162-game regular season. Instead, amid the ongoing coronavirus crisis, it is working desperately to launch a condensed, fan-less, 82-game season that would start around July 4, preceded by a roughly three-week "spring training 2.0" beginning in mid-June.