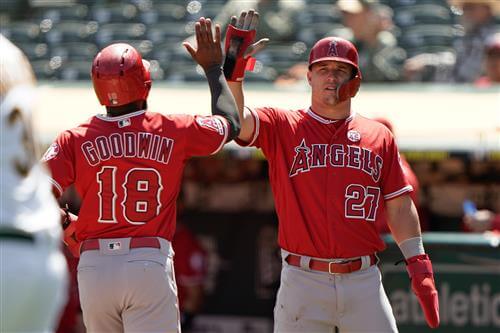 Awards season continues with the 2019 Silver Slugger Awards handed out on Thursday evening. Here are your winners:
American League
C: Mitch Garver, Twins (1st)
1B: Carlos Santana, Indians (1st)
2B: DJ LeMahieu (1st)
3B: Alex Bregman, Astros (1st)
SS: Xander Bogaerts, Red Sox (3rd)
OF: George Springer, Astros (2nd)
OF: Mookie Betts, Red Sox (3rd)
OF: Mike Trout, Angels (7th)
DH: Nelson Cruz, Twins (3rd)
Lots of first-time winners here, but Trout sticks out the most, winning his seventh Silver Slugger. He turned 28 years old in August. How big is his trophy case now, and how big will it have to be to hold all of his hardware by the time his career is finished? Along with the Silver Sluggers, he has the 2012 AL Rookie of the Year Award, the 2012 Wilson Overall Defensive Player of the Year Award, and two AL MVP Awards.