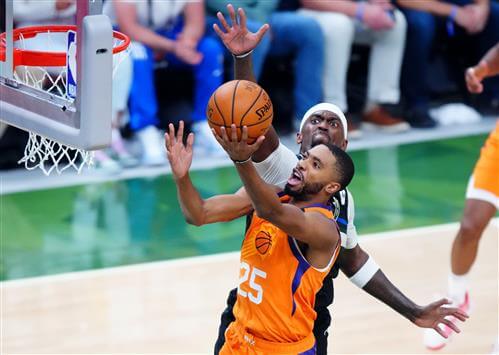 The Phoenix Suns were one of the best teams in the entire NBA last season, buoyed partially by the MVP-caliber play of point god Chris Paul and partially by the natural development of the young players on the roster who had suffered through a ton of losing before finally putting it all together.
Mikal Bridges is one of those young players who elevated his game as the stage lights got brighter. He was always one of the league's best defenders, but in his third NBA season his offense became more forceful and impactful.
In 2020-21, Mikal's notched career highs in scoring (13.5 points per game), shooting (42.5% on threes, 54.3% overall), field goal attempts (9.3), free throw attempts (1.8), rebounds (4.3), assists (2.1) and blocks (0.9) while lowering his turnovers (0.8) and personal fouls (1.6) to career lows.
Quite frankly, Bridges is now one of the league's very best "4th man", right behind All-Stars Chris Paul and Devin Booker and fellow 2018 draftee Deandre Ayton, who had a bigger playoff impact and is just a little closer to All-Star status than 'The Warden'.
Bridges may never become an All-Star, which is tilted to the league's best scorers, but he could be a 10-year staple on league 'All Defense' teams and could even win a Finals MVP award some day because of his all-around impact on winning.
On a lesser team, Bridges could be a 20-points per game scorer but he much prefers staying with the Suns so he can win lots of games without having to be the alpha dog.
Now the question is how much to pay Bridges in an extension of his rookie deal, which would kick in a year from now.
Is he worth more than small forward OG Anunoby got a year ago from the Raptors, which was 4 year, $72 million deal ($18 million per year on average)? Probably. He is a more consistent and at least as good if not better on defense.