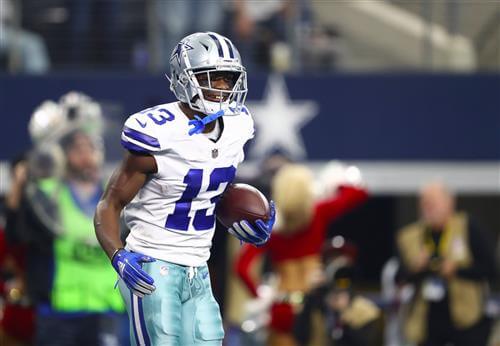 Michael Gallup is entering his fourth season with the Dallas Cowboys. He's not expected to see a sixth.
The Athletic's Jon Machota predicted in his latest mailbag that the veteran wide receiver — entering a contract year — is "unlikely" to return in 2022, due largely to Gallup's future free-agent value and, consequently, the cap-strapped club prioritizing $100 million alpha dog Amari Cooper and fast-rising star CeeDee Lamb.
"I'd say it's unlikely that he's on the Cowboys next season," Machota wrote Friday. "There's just not enough salary cap space to pay Amari Cooper, CeeDee Lamb and Gallup all at the top of the wide receiver market. Now, if Gallup is willing to take some type of team-friendly deal, sure, he could be back. There's also a scenario where Cooper deals with a bunch of injuries or takes a step back and they move on from him and end up paying Gallup. But coming off the season Cooper just had, that doesn't appear to be a great bet. Lamb is 100 percent not going anywhere. They will do whatever they have to keep him around well beyond his rookie contract. So if Gallup has a big year, which many of us expect, there will be teams looking to give him big money next March on the open market. And I think it would be tough for anyone to pass that up."
Whispers surrounding Gallup's tenuous future with the Cowboys began last season, right around the time that Cooper — who finished 2020 as the team's leading receiver — and Lamb — who exploded onto the scene as a rookie — nearly made Gallup obsolete in a Dak Prescott-less offense.