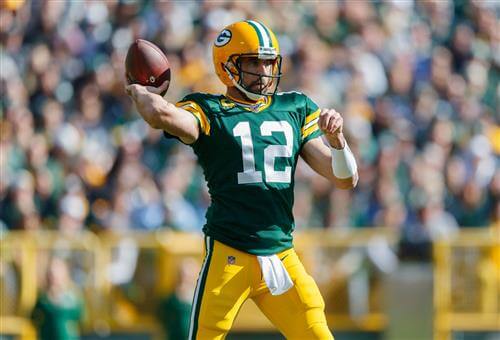 One story is dominating the NFL news cycle. It isn't the recently completed draft's effect on the league's balance of power. Or a prominent free agent searching for a new home.
No, the story looming large over all others is the possibility that the reigning NFL MVP could change teams.
With Aaron Rodgers reportedly so upset with the Green Bay Packers that he would sooner retire than play another game in the green and gold, sportswriters and fans of approximately 31 other teams have spent the past week-plus postulating about who could be interested in the three-time MVP (anyone with a brain) and what it could take to acquire him (everything that isn't nailed down).
However, while there is no shortage of clubs that would love to add the 37-year-old, one stands out as an optimal fit. A team that has everything it takes to appeal to both Rodgers and the Packers. A team that would shoot right to the top of the list of AFC challengers. A team that has a boatload of draft capital to use as trade bait. A team that even has a young quarterback it could offer as part of a deal.
Of all the franchises that would like to take a run at Rodgers, the one best positioned to do that just so happens to have done more to remake itself over the past couple of years than anyone.
The Miami Dolphins.
Less than two years ago, Bleacher Report's Brad Gagnon wrote that the Dolphins could be in the opening stages of the worst season in league history. He wasn't wrong, either. Over the first month of the 2019 campaign, opponents outscored Miami by a staggering margin (163-26). The Dolphins lost their first seven games that year and were having a fire sale that saw prominent players like safety Minkah Fitzpatrick and offensive tackle Laremy Tunsil traded.
However, those Dolphins rallied to win five of their last nine games to end the season 5-11. The draft capital acquired in the Tunsil and Fitzpatrick trades helped accelerate the franchise's rebuild. By the end of Brian Flores' second season as head coach, the Dolphins were a 10-win team that narrowly missed the playoffs. In the post-draft set of 2021 NFL Power Rankings here at B/R, the Dolphins checked in 10th.
Miami should be in the thick of the playoff chase in 2021. But with Rodgers under center, the Dolphins would be right there with the Buffalo Bills as the primary threat to the Kansas City Chiefs.
Offensively, the Dolphins took major steps to upgrade the passing-game weaponry in both free agency and the draft. After setting career highs across the board in his fifth season, wide receiver Will Fuller V signed with the team.