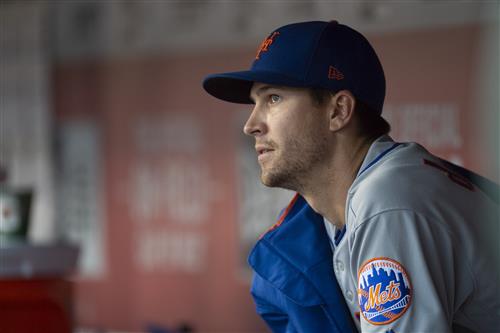 Tom Seaver is now in Jacob deGrom's sights.
The shortstop-turned-pitcher at Stetson University won his second straight Cy Young Award on Wednesday, gathering 29 of the 30 first-place votes from the Baseball Writers' Association of America.
The Mets ace earned these words of praise on Twitter from the guy who used to be his agent: "Another amazing year,'' Brodie Van Wagenen tweeted. "Winning back-to-back Cy Young Awards is a testament to @JdeGrom19's work ethic and commitment to his craft. Congratulations Jacob! #GOAT''
Yes, deGrom is the GOAT — or maybe deGOAT.
He is widely respected throughout the game by opponents, much like Tom Brady is in the NFL. That is your NFL GOAT.
And just as the Patriots quarterback has Bill Belichick in his corner, doing whatever he can do to get the GOAT back to the playoffs year after year, with Brady winning the Super Bowl six times, BVW needs to guide his deGOAT to much greener pastures.
The 2015 run to the World Series can't be all there is for deGrom, who by winning back-to-back Cy Young Awards has put himself in Hall of Fame company. Seaver never won back-to-back, but he won three Cy Young Awards — 1969, 1973 and 1975 — making him Tom Terrific.