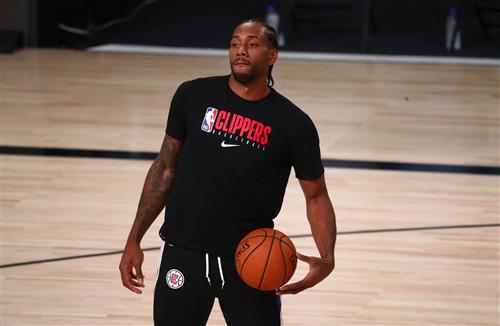 As the season for idle NBA rumors gives way to time for real action—the draft is just six days away, after all—it has become increasingly clear that the Clippers have, at least, a concern on their hands when it comes to forward Kawhi Leonard. While no one is taking the plunge and predicting Leonard will opt out of his contract, hit free agency and bolt L.A. altogether, there does appear to be less certainty about his return to the Clippers.
What was once a guarantee could now be a wait-and-see. The Clippers, at least, have to be prepared for the worst, while at least one new team (i.e., not the Knicks or Heat) is prepared to plow ahead in a Leonard pursuit.
On Friday, veteran reporter Marc Stein noted that the Leonard-Clippers bond may be weakening. He wrote:
The most likely scenario, league sources say, remains Leonard opting out to re-sign with the Clippers — or, in (owner) Steve Ballmer's worst nightmare, to shock the league by signing elsewhere. Leonard's well-known affinity for Southern California has led various rival front offices to presume that he would have no interest in switching teams for the third time, but the notion that Leonard is unattainable seems to be waning a bit as the August 2 start of free agency nears.
Stein goes on to cite Dallas, which has not been mentioned before, as one team intent on courting Leonard, even if the odds are still stacked in the Clippers' favor, writing that the Mavs, "will not be dissuaded from pursuing Leonard even if he's forced to miss all of next season, league sources say."