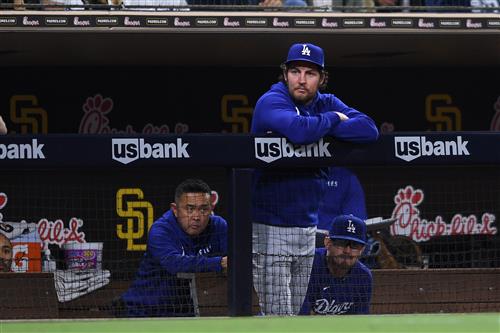 What could be Trevor Bauer's last public comment in a Dodgers uniform was uttered in frustration as the pitcher stood up to leave a videoconference following a 3-2 victory over the San Francisco Giants on June 28.
"I can't believe they didn't ask me about f — ing Angel Hernandez," Bauer said, making no attempt to hide his disdain for the much-maligned umpire.
Bauer had pitched well that Monday night, limiting the National League West-leading Giants to two runs in six innings and striking out eight. Nearly halfway through the season, Bauer was 8-5 with a 2.59 ERA and a then NL-best 137 strikeouts in 107 2/3 innings .
He received a rousing ovation from a Dodger Stadium crowd of 47,835 after escaping a sixth-inning jam, pounding his chest three times and pointing both arms toward fans above the third-base dugout as he walked off the mound.
But Bauer seemed irritated, a bit distracted, during a brief postgame video call in which several of his answers were clipped and his walk-off quote was tinged with scorn.
A day later, the scattershot strike zone of a notoriously erratic umpire and the inadequate inquiries of a few sportswriters would be the least of Bauer's concerns. That morning a San Diego woman obtained an ex parte temporary restraining order against Bauer in Los Angeles County Superior Court. In the 85-page document, the woman alleged that the pitcher had choked her to the point of losing consciousness during two sexual encounters in the spring and injured her during the second. Bauer, through his representatives, said the encounters were "wholly consensual."
Three days would pass before Bauer was placed on paid administrative leave — a non-disciplinary action — by Major League Baseball and he has remained there while MLB investigates the right-hander for a possible violation of its joint domestic violence, sexual assault and child abuse policy. Separately, the Pasadena Police Department has continued its investigation of Bauer, launched in May, for possible felony assault.