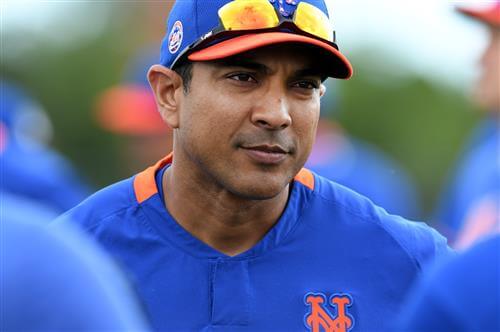 As the Mets were collapsing, with losses piling up and disappointment setting in, manager Luis Rojas' fate, once uncertain, started to seemed rather clear. Not only was his team underachieving, but front office changes loomed, which put him in an even more precarious position.
And now, the Mets have made it official: After two seasons, both of which ended without a postseason berth, Rojas is out as manager as the organization is not picking up the option for 2022 on his contract. In a statement, the Mets said they offered Rojas the opportunity to remain with the organization in a "yet to be determined" capacity, and that they will make decisions on the rest of the coaching staff in the coming days.
Rojas finished with a 103-119 record at the helm and his club ended in last place and third place, respectively, in the NL East during his tenure.
"I want to share such heartfelt gratitude to so many in the Mets organization for not only the last two seasons as manager, but for the last 16 years in a variety of roles," Rojas said in a statement. "In each and every position I held, striving for excellence was our daily mission. I will always hold the relationships and friendships, developed over the years, dear to my heart, and am forever grateful to have been able to wear the Mets uniform for so long. We live in a results oriented business, and am deeply disappointed for our staff and fans that we didn't reach our goals this season."
Added team president Sandy Alderson: "The entire Mets organization is grateful for the dedication and devotion that Luis has exhibited over the last two seasons as manager. He has shown a great commitment to the Mets over many years in multiple capacities. These decisions are never easy, but we feel a change is needed at this time."
During Sunday's game, Rojas found himself looking up at the scoreboard at Atlanta's Truist Park, which displays teams' records for the entire game. He said he glanced at his club's record — which ended up being 77-85 after a loss in the season finale — and thoughts began swirling around his head.
"As the manager, you've got to feel responsible for not winning enough games, you got to feel responsible for not helping the team achieve the goal that was set at the beginning of the season," Rojas said. "Managers get paid to win games, and we won less than we lost this year."