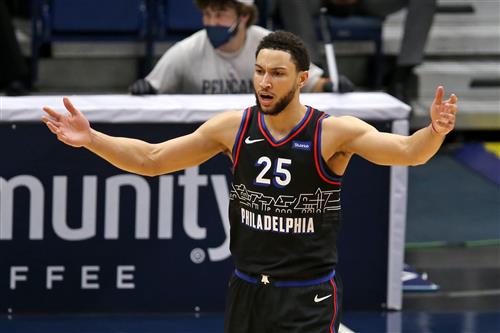 The Ben Simmons trade saga has taken a few strange turns after his late arrival to the Philadelphia 76ers last week. It culminated with him getting thrown out of practice Tuesday and receiving a one-game suspension for "conduct detrimental to the team," per Shams Charania of The Athletic.
Simmons already hurt his trade value with his postseason flameout against the Atlanta Hawks. His holdout and subsequent suspension are only doing more damage.
However, according to ESPN's Adrian Wojnarowski, the Sixers have "remained steadfast: They won't move Simmons for role players—only a player who'll help keep them a championship contender." Wojnarowski added that "no one should expect a speedy resolution on Simmons' future in Philadelphia."
If team president Daryl Morey eventually changes course and decides to rip the Band-Aid off, he might have to entertain some less-than-stellar offers. Even if an All-Star and multiple picks aren't headed back to Philly (the previously reported asking price), one or two positive contributors would be preferable to $31.6 million of cap space pouting at home.
If the team doesn't relent on its exorbitant price, this stand-off could linger throughout the entire 2021-22 campaign. And as Joel Embiid nears his 30s, Philadelphia has to consider how long its window to contend will stay open.
With all of that in mind, a few teams around the NBA should still be interested in the uniquely gifted Simmons, and now might be the time to leverage the drama surrounding him. Morey may have his heels dug in, but it wouldn't hurt to call with a lowball offer.
San Antonio Spurs
Lowball Offer: Dejounte Murray, Derrick White and a 2023 first-round pick for Ben Simmons and Paul Reed
Why 76ers Should Consider It: Simmons rightfully notched an All-Defense selection last season. And his combination of size, vision and athleticism make him a distinctive playmaker. Replacing him with both Dejounte Murray and Derrick White checks both of those boxes (though not as thoroughly).
Murray doesn't have the size of Simmons, but he's a tenacious on-ball defender with a nose for the ball. And though he can't guard all five positions (as Simmons can against certain lineups), a 6'10" wingspan allows him to survive against wings. He's shown some playmaking chops too, as evidenced by last season's 5.4 assists per game.