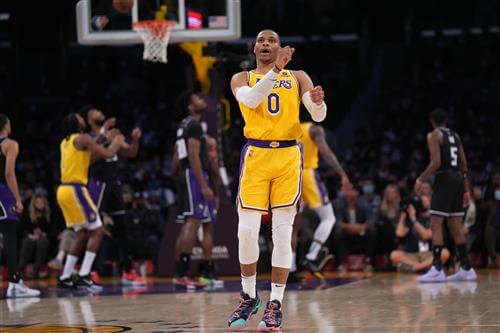 A blockbuster deal involving Los Angeles Lakers point guard Russell Westbrook is reportedly "extremely unlikely" ahead of the Feb. 10 NBA trade deadline.
Sam Amick of The Athletic reported Wednesday the Lakers showed some "covert interest" in moving Westbrook earlier in the 2021-22 campaign, but the two seasons remaining on his five-year, $206.8 million contract remained a "massive obstacle."
"Inside the Lakers, it seems, there is some recognition that this hasn't gone as [LeBron James and Anthony Davis had] planned," Amick wrote.
Acquiring Westbrook from the Washington Wizards in an August trade headlined a roster overhaul by Los Angeles following an injury-plagued 2020-21 season that saw the team get eliminated by the Phoenix Suns in the first round of the playoffs.
Bringing in a third superstar combined with additions to improve the squad's offensive depth raised expectations the Lakers would return to a championship level after winning the NBA title in 2020.