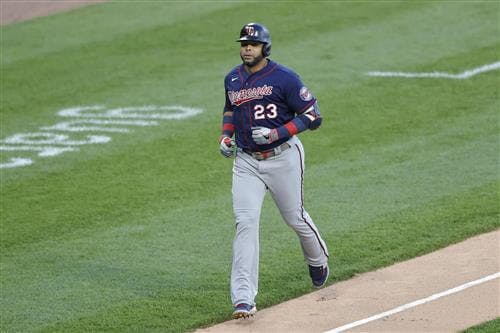 The Trade Deadline is still two months away, but hey, Opening Day was almost two months ago, and look how fast that went. July 30 will be here before you know it. And really, it's never too early for some fun trade speculation.
With this in mind, five MLB.com writers played matchmaker and came up with some not-so-crazy summer swaps that could make this year's postseason races a little more interesting.
Read More- Josh Donaldson pledges to release 'entire catalog' of pitchers cheating
Here are five moves we'd like to see. (General managers, feel free to use these for inspiration.)
Max Scherzer to the Blue Jays
Sure, the Nationals are still in the race in the slow-paced National League East and could have a run in them. And even if not, Washington could decline to move Scherzer, who also has the power to veto any deal. But if the Nats can't get things going, Scherzer will be coveted. The 36-year-old is in the final year of his contract, and he's back in vintage form after a pandemic-shortened 2020 that was subpar by the standards of a three-time Cy Young Award winner. Through 10 starts, Scherzer owns a 2.27 ERA, while ranking in the 93rd percentile of MLB pitchers in strikeout rate and whiff rate, thanks to his ability to miss bats with five different offerings. (Coincidentally, his worst start came against Toronto, including two Vladimir Guerrero Jr. homers).
Mad Max fits just about anywhere -- including with his hometown Cardinals -- but Toronto would be a particularly appealing destination. The Blue Jays have their hands full in a loaded American League East featuring four contenders, but mediocre pitching is dragging down a dynamic offense that will get even stronger when George Springer returns. Toronto starters aside from lefties Hyun Jin Ryu and Robbie Ray own a 5.49 ERA, and it's worth remembering that Ryu has a checkered injury history. This is a team that could really use an elite right-handed starter, especially to go up against the righty-heavy Yankees. And if the Blue Jays end up in a win-or-go-home AL Wild Card Game? Having Scherzer as an ace in the hole sure would be nice for a franchise looking to make its first World Series trip in 28 years.
Trevor Story to the Reds
Just imagine this lineup:
Eugenio Suárez, 3B
Joey Votto, 1B
Trevor Story, SS
Jesse Winker, LF
Nick Castellanos, RF
Mike Moustakas, 2B
Nick Senzel, CF
Tucker Barnhart, C
That looks pretty good. If the Reds hang around in the National League Central, don't be shocked if you see Story manning short at Great American Ball Park down the stretch. Oh, and a nice little bonus for Story would be that the slugger would go from one hitter's paradise to another, Coors Field to GABP. Something like the lineup above, plus Luis Castillo returning to form (yes, that's a big "if") and if (another if) Wade Miley can sustain his early-season success, watch out for Cincinnati.
The Reds have a handful of MLB Pipeline's Top 100 Prospects, and they're not in the Rockies' division (Colorado has reportedly been reluctant to trade within the division), so there could be a match there come July, assuming the right arm tightness that forced Story from Thursday's game doesn't prove to be a major issue.