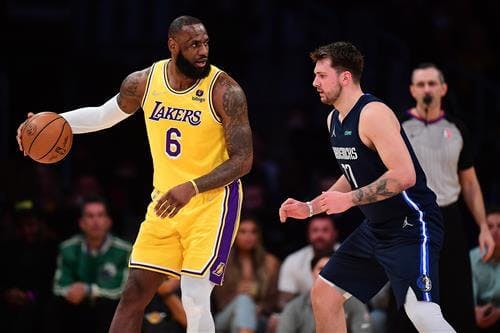 Other than the incessant drama between Kevin Durant and the Brooklyn Nets, there's not a whole lot going on in the NBA during these dog days of August. That will all change when the 2022-23 schedule drops, reportedly some time next week, when fans will start calculating potential records and circling key dates on the calendar.
One such key date is Christmas Day, which always features the cream of the crop in terms of marquee players and teams. While this year's slate is still a mystery for now, we've gotten a clue about at least one holiday matchup. In the first draft of the 2022-23 NBA schedule, LeBron James and the Los Angeles Lakers are set to face Luka Doncic and the Dallas Mavericks, according to longtime NBA reporter Marc Stein, who added that things can still change before the schedule is officially released.
This matchup makes a lot of sense given that James, who will be close to his 38th birthday by the time Christmas rolls around, has been the face of the NBA for almost two decades.