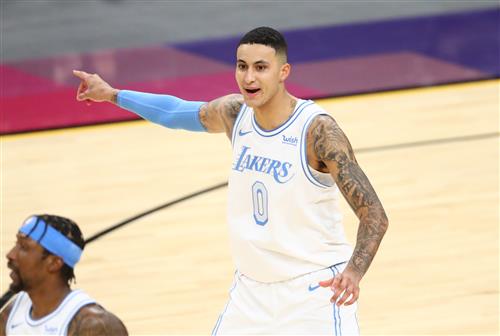 The Los Angeles Lakers were eliminated in the first round of the NBA Playoffs by the Phoenix Suns after what was a tough, grueling, and disappointing 2020-21 NBA season. LeBron James and Anthony Davis both missed major time with injury, but the worst part was that the rest of the roster did not step up around them. One of the biggest disappointments was the play of young forward Kyle Kuzma.
Over the last few years, the Lakers have been willing to bet on Kuzma's pure talent. There is no question that he has the skill and ability to become a very good NBA player, especially on the offensive end of the court. Unfortunately, that skill and potential has yet to materialize consistently.
Now, it appears that the Lakers could be ready to move on from Kuzma. An NBA agent spoke to NBA Analysis Network about the Lakers' plans with Kuzma and it sounds like a trade could be on the horizon.
"The Lakers have grown frustrated with (Kyle) Kuzma's inconsistency and are going to look at trading him this offseason. Rob Pelinka won't move him for cheap, but if he can be packaged to add better talent around LeBron and AD, they will do that. Kuzma will be on the trade block this offseason and quite a few teams are expected to show interest."