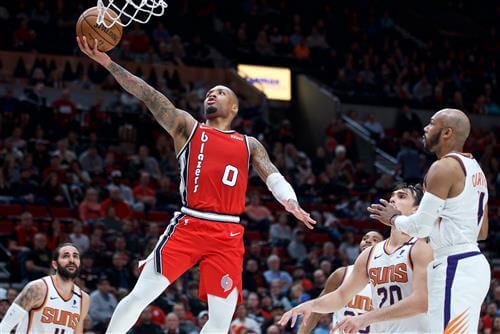 If Portland Trail Blazers star Damian Lillard asks for a trade, the Los Angeles Lakers would be among the teams at the top of his list as a preferred destination, according to a recent report.
Reports linking Lillard to the Lakers have circulated since LeBron James decided to come to LA in 2018. The latest is from Mike Berman of the New York Post.
"If scoring point guard Lillard asks for a trade, it's believed the Knicks or Lakers would be his choices," Berman wrote in his mailbag column on Saturday.
Lillard recently agreed to a four-year, super-max extension with Portland that puts him under contract until the 2023-24 season, with a player-option for the follwing year. While there have been some frustrating moments, Lillard has committed to the franchise, saying in the past he wants to be the best Blazer of all-time when all is said and done.
"I want to be the best Trail Blazer ever. And I think, it's bigger than basketball to me. I think, obviously, you have to have the numbers to back it up which I am already on track for," Lillard said when talking about his goals for his career via Billboard. "I'm second in points. I think I am top three in assists.