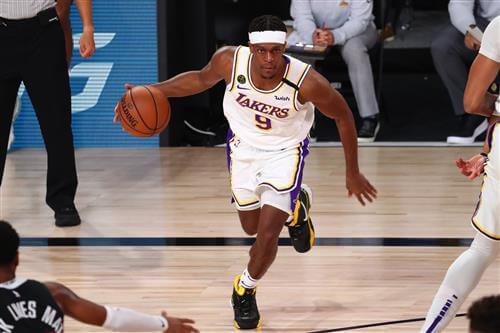 It appears the Los Angeles Lakers are the first team to make a big move this offseason. ESPN's Adrian Wojnarowski reported Sunday that the team is set to acquire Dennis Schroder from the Oklahoma City Thunder in a trade. The move will make the Lakers a little younger while also giving them a real third scoring option.
While Schroder makes sense for a number of reasons, he could be the replacement for Rajon Rondo. The veteran guard is set to hit free agency soon after he declines his player option. According to Marc Stein of the New York Times, the Lakers believe that Rondo is planning to walk in free agency.
After his role in helping the Lakers win a championship with a particularly strong playoff run, Rondo is expected to command free-agent interest that exceeds the Lakers' budget constraints. Trading for Schroder is an adroit pre-emptive move
Rondo has already won multiple championships and likely doesn't have very many years left in his career. He could be seeking a bigger payday, which a team in need of a veteran guard could give him. Rondo was an important piece for the Lakers in the playoffs but wasn't much of an impact player in the regular season. It would be hard for them to invest a lot of money into an aging player who doesn't show up in the regular season.