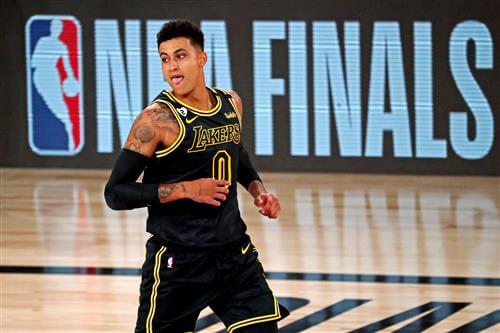 The Los Angeles Lakers are fairly limited in how they can upgrade their roster this offseason. They have only seven players under contract for next season, but because of the hefty salaries owed to LeBron James and Anthony Davis, they are already over the cap. That means they probably won't be able to pursue a big-name free agent, and after sending most of their draft capital to the Pelicansin the Davis trade, they don't have all that much to trade either. If they are going to pursue a bigger name on the trade market, their only notable young player under contract is probably going to be at the center of the deal.
That would be Kyle Kuzma, and sure enough, it appears as if the Lakers are considering deals for their 25-year-old forward. According to Bleacher Report's Jake Fischer, "Los Angeles continues to gauge rival teams' interest" in Kuzma. What exactly they are looking for, and what Kuzma could fetch in a trade, remain unclear.
The Lakers signed Kuzma to a three-year, $40 million contract last offseason that makes him fairly tradable.