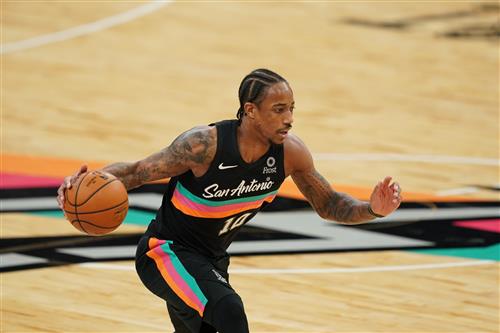 The Los Angeles Lakers are so injured right now that they are nearly limping into the playoffs. The defending NBA champions could be without LeBron James and Anthony Davis for at least a month due to injury. The Lakers brass is hopeful that the Lakers can make a deep playoff run when the team is fully healthy, but the Lakers still need to qualify for the playoffs to do that.
The Lakers will ultimately make the playoffs thanks to their start to the season. However, their seed could drastically change if the Lakers don't win without their dynamic duo. With that said, the trade deadline is approaching and the Lakers should be in contention to land a big name. Here's a potential trade that could help the Lakers get not only contend for a top seed in the Western Conference but also repeat as NBA champions.
Trade Package
Kentavious Caldwell-Pope, Wesley Matthews, Alex Caruso, Talen Horton-Tucker, Alfonzo McKinnie, 2027 First-Round Pick for DeMar DeRozan
For starters, let's get obvious out of the way. Even with the great coaching of Gregg Popovich, the San Antonio Spurs are not going to win the NBA championship. In the past, Popovich has not liked making deals with the Lakers but he has to see the writing on the wall. The aging Spurs team is contending for a playoff berth, but have realized their core is not good enough to make it past the first round. LaMarcus Aldridge has already been permitted to seek a new team. While Dejounte Murray and Jakob Poeltl are great future assets, the collective unit of Patty Mills and Rudy Gay is past their prime.