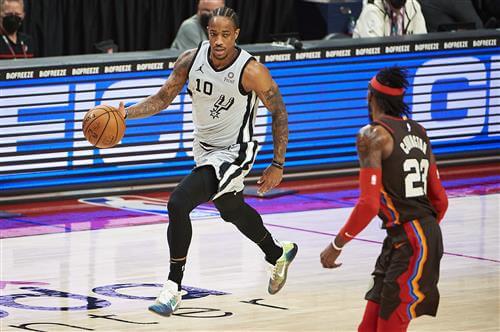 The Los Angeles Lakers face a challenging offseason with many of their own key players set to hit free agency. With no cap space, the Lakers are going to need to get creative to end up with an improved roster heading into next season. Their two biggest opportunities hinge on a potential sign-and-trade with another team for Dennis Schroder or pulling off a similar deal for an opposing team's free agent.
ESPN's Bobby Marks, who spent five years as the Nets assistant general manager, believes the Lakers could target Spurs free-agent guard DeMar DeRozan. Unless DeRozan is willing to play for the mid-level exception (unlikely), the Lakers would need the guard to force his way to Los Angeles via a sign-and-trade. As a frame of reference, DeRozan had a $27.7 million salary during the 2020-21 season as part of a five-year, $139 million contract.
Read More - Damian Lillard's cryptic IG post sparks trade rumors
"For example, the Lakers could trade Kuzma, Caldwell-Pope, an unprotected first-round pick in 2027 and the right to swap firsts to San Antonio for a signed-and-traded DeMar DeRozan," Marks explained.
While Marks threw out the hypothetical trade scenario, the former NBA executive admitted such a deal is "highly unlikely." The four-time All-Star averaged 21.6 points, 6.9 assists and 4.2 rebounds in 61 starts this season. Lakers fans will likely be quick to point out that DeRozan shot just 25.7% from behind the three-point line.