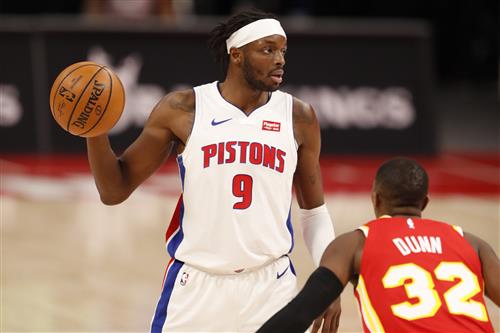 The Los Angeles Lakers are going to have to get creative this offseason to make a major addition to their roster. Bleacher Report's Greg Swartz suggests the Lakers make a run at Pistons bucket-getter Jerami Grant. Swartz's proposal has the Lakers dangling Kyle Kuzma, the No. 22 pick in the 2021 NBA Draft and two future second-round picks (2023, 2024) in exchange for Grant.
The selling point for the Lakers is obvious as the team lands a legitimate third scorer to play next to LeBron James and Anthony Davis. Kuzma's upside has prompted plenty of intrigue around the league, but the Lakers forward's inconsistent play in the postseason was glaring. Grant was a top-30 NBA scorer this season averaging 22.3 points while adding 4.6 rebounds, 2.8 assists and 1.1 blocks in 54 starts for the Pistons.
Read More - 5 Blockbuster NBA Trades That Could Happen This Summer
There are a couple of notes about the proposal to make it a realistic option. Even with nine free agents, the Lakers will not have cap space and would need to add more salary to the deal to make it work. Grant's $20 million salary next season is about $7 million more than Kuzma, meaning the Lakers would need to add players to make the trade viable within the cap rules. The Lakers also cannot trade this year's first-rounder until after the draft.
Whether Kuzma and a trio of draft picks is enough to entice the Pistons to trade their leading scorer remains to be seen. For the Lakers, the main fear with Grant is the forward could be putting up good stats as a byproduct of being on one of the worst teams in the league. There is a lot more pressure that comes with playing next to James and Davis.