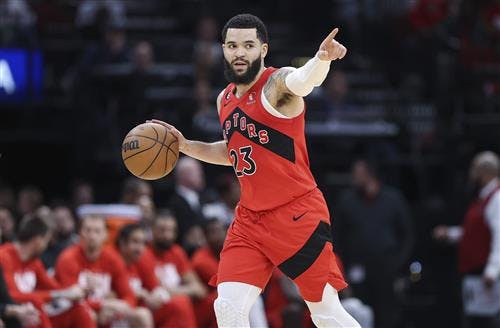 To the disappointment of LeBron James, the Los Angeles Lakers did not trade for Kyrie Irving, who was shipped to the Dallas Mavericks in the first blockbuster before Thursday's NBA trade deadline.
We can litigate whether the Lakers actually dodged a bullet by missing out on Kyrie in another space. Either way, their front office now has four days to seek less-controversial upgrades to a 25-29 club that currently sits four games out of the No. 4 seed in the West with 28 games left in the 2022-23 regular season.
Here are a few options for Rob Pelinka to consider (you know, assuming he's reading this).
4) Russell Westbrook to the Chicago Bulls for Zach LaVine
If the Lakers are committed to adding a third star, LaVine may be the best option left. Bradley Beal's contract is too outrageous, Damian Lillard isn't going anywhere, DeMar DeRozan doesn't space the floor around LeBron and Anthony Davis, and Chris Paul is 37 and starting to show it.
LaVine, a former UCLA Bruins star, is averaging 23.6 points per game this season and is a career 38.5% three-point shooter. He would infuse the Lakers with spacing and dynamism on the wing.
His five-year, $215 million contract is nearly as worrisome as Beal's, but at least he'll only be 32 when it completes — one year younger than DeRozan is now. The Lakers don't have cap space to add a max player this summer, so they can think of LaVine as a splashy free agent signing and commit to him as a fulcrum of the post-LeBron era.
The Lakers could send out Westbrook's $47.1 million expiring contract, an unprotected 2029 first-round pick, and maybe a top-8 protected 2027 pick. The Bulls could throw in the expiring deals of Goran Dragic and Javonte Green to make the money work.