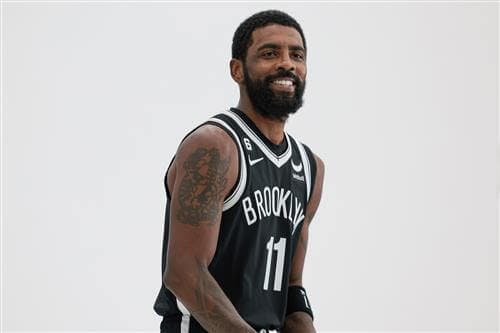 The vibes are good right now in Kyrie Irving's world.
As he stands inside the Brooklyn Nets' locker room following Wednesday night's preseason win against the Milwaukee Bucks, Irving lights up some sage from the side of the room and discusses his team and what he feels is the positive direction it is headed after a dramatic and controversy-filled summer.
"I'll tell you right now -- it extends all the way up," Irving told ESPN. "From [Nets owner] Joe [Tsai] all the way to the 16th guy on the team. We all can feel it because we all have a piece in our success. And we all have a piece in when we fail. So that accountability that we continue to hold for each other is definitely something that we're going to continue to build on, and I think the results will speak for themselves."
Irving, 30, opened up about regrets he might hold from the 2021-22 season, how he's feeling about the Nets now, how much longer he wants to keep playing and why his love for the game will never disappear.
On media day, you said that you could have signed that four-year extension worth over $100 million. Are you confident going into the new year that if you play at the way you're capable of, that contract will still be there at the end of the season -- whether it's from the Nets or somebody else?
Irving: Well, I'm staying patient and letting those things play out, honestly. Because the best thing I can do right now is just build sustainable relationships and be there for people that go on the court and off the court. And that's going to be a unique task this year. Eliminating those distractions of thinking about things that I know are either in the future or they are not, or hoping -- I don't want to be in that phase. I just want to be present, live every day as God has given it to me and legitimately just have fun with this profession. It's a heck of a business, ain't it?
How do you block out the fact that you could have already had the [four year, $100 million-plus extension] done, but now you have to go out and play at a high level to make sure another offer like that will be on the table in the future?
Irving: Well, I'm only as great as my team and the individuals that are around me. And they keep me very grounded and balanced in terms of what my goals are, what our goals are, and we focus on those.
I can't control the energy that people pour out in terms of my name or what they feel about me, but what I can control is how I show up to my profession and make sure that I'm doing everything that I can to put myself in a great position to lead and be an example. And not just be somebody that just says a bunch of words and doesn't follow through.
And I have great aspirations of leaving a legacy in this league and however many years that takes me is -- that's laid out [ahead of me], but in the meantime, I just want to build with people in this industry and win together. I want this to feel like a dream that we all can share. And that's not just only with my Nets, but people that we're going to be going against. It's going to be fun. It's going to be a fun ride. So I'm looking forward to that enjoyment as well, more importantly.
Do you have any regrets as you look back on last year -- about anything?
Irving: I'd be lying to you as a human being [if I said I didn't]. I think we all think about times we could have made better decisions, and times we wish we could have done things differently and I feel the same way at times throughout my life. ... I legitimately just want to play the long game and not put too much pressure on myself or the people that I'm around.
This is something that I get to do every day. We say it as a cliché sometimes, but nah, we just let the play handle [itself] -- enjoy the season, and then after that, we'll go back and look at some of this reflection time and talk about these things in deeper detail, but as of right now that can't be my focus.
It seems like you genuinely still love the game?
Irving: Always have. It was just taken away from me the last few years.