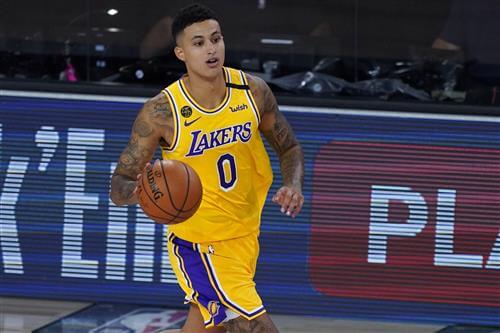 It has been quite the week for news stories involving Los Angeles Lakers forward Kyle Kuzma. Now, it appears Kuzma's preference would be to "move on" from the Lakers via trade this offseason, per Bleacher Report's Eric Pincus. The forward is the Lakers' most tradeable asset as Kuzma begins playing on a three-year, $39 million contract extension next season.
"I think Kuzma's time, I think he's ready to move on," Pincus noted on The Lakerside Chats podcast. "I think winning cures all, and you're willing to sacrifice but this year they didn't win and now I think everybody's a little grumpier. I think they're exhausted mentally from what's happened the last year or two. Deservedly so, this has been very hard on the real world where real consequences and real things happen."
Kuzma averaged 12.9 points, 6.1 rebounds and 1.9 assists while shooting 36.1% from behind the arc last season. These are not superstar numbers but that has not dinged Kuzma's confidence.